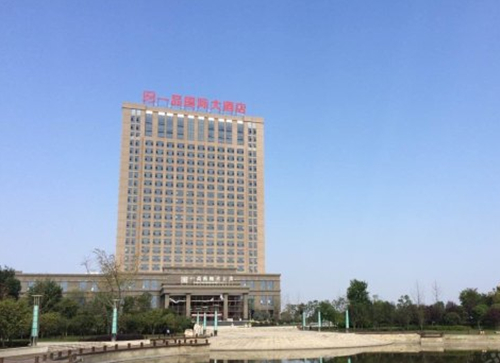 [Photo/Xinye Yipin International Hotel]
Xinye Yipin International Hotel is five-star hotel in Nanyang. Jiangxi Dongxu Investment Group built the hotel at a cost of 300 million yuan ($47.8 million) and opened the luxury establishment to guests in 2016.
With a floorage of more than 50,000 square meters, the hotel contains 208 diverse guestrooms, two restaurants, eight banquet halls and a conference room that can accommodate up to 1,000 people.
Amusement amenities include an indoor swimming pool, 4D cinema, karaoke, gymnasium and teahouse. The hotel also provides hot spring, massage and SPA treatments for those seeking some relaxation.
Located just five kilometers away from the city center, the hotel not only serves as a serene sanctuary amid the noisy neighborhoods, but also offers all the urban conveniences. Despite transportation being readily available, the hotel provides car rental services on request.
Address: intersection of Sanguo and Nanyang avenues
Check-in: after 2:00 pm Check-out: before 12:00 am
Note: Guests aged under 18 must be accompanied by a parent or legal guardian.