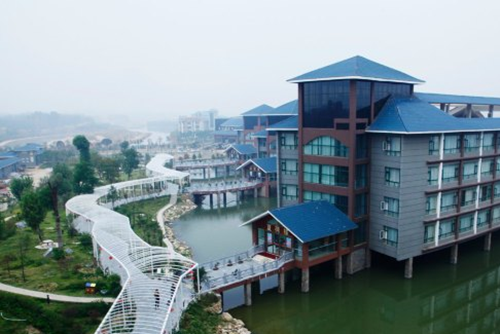 [Photo/Nanzhao Lotus Hot Spring International Tourism Resort]
Nanzhao Lotus Hot Spring International Tourism Resort is a five-star hotel in Nanyang. Covering an area of 1200 mu (80 hectares), it was named after the vast-stretching lotus ponds and hundreds of hot springs in the area.
Not only does the hotel have 308 rooms for accommodation, it also features Henan's biggest hot springs. Reputed for its therapeutic properties, the hot spring contains over 30 kinds of microelements and mineral substances, including calcium, lithium, and radium.
In addition to being healthcare-oriented, the hotel also offers a wide variety of entertainment. Visitors looking for relaxation can feel free to go to either of the swimming pool, gymnasium, lobby bar, karaoke, teahouse or poker room. For those sports enthusiasts, there are areas dedicated to table tennis, basketball and tennis.
Furthermore, there are also free Wi-Fi in designated locations, parking areas and the shuttle services.
Address: close to Wenquan Road, Huangludian town, Nanzhao county
Check-in: after 2:00 pm Check-out before 12:00 am
Note: Only Unionpay chip cards are accepted for payment.