The launch ceremony of a new energy vehicle project by Anhui Xingkailong Coach was held in Zhongguancun Science and Technology Industrial Park of Nanyang on Nov 27.
Costing 620 million yuan ($94 million), the first phase will cover an area of about 350 mu (23 hectares). Construction on the plants and research & development buildings will take seven months, with expectations that they will come into service by September 2018.
As a car manufacturer with a history of over 50 years, Xingkailong has always been committed to the development of new energy vehicles. The company will give full play to its experiences, while integrating automobile manufacturing resources in Nanyang, said Jiang Mingwei, president of the Xingkailong.
According to vice mayor Zhang Mingshen, the automobile industry is the backbone of the national economy. Faced with a new round opportunity of transformation and upgrading, the city will utilize the new energy car project as an anchoring point to speed up green development in Nanyang.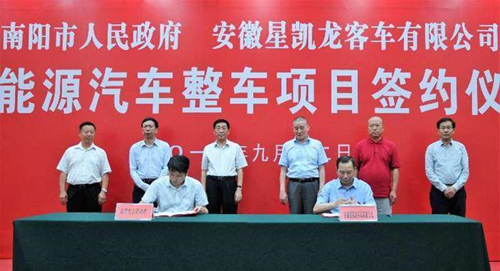 Nanyang government signs the cooperation agreement with Xingkailong to produce new energy vehicles on Sept 12. [Photo/news.01ny.cn]