Edible fungi produced in Xixia county, Nanyang not only sells well in domestic supermarkets and online stores, but has also opened up new markets in BRICS countries on back of the Belt & Road Initiative.
Edible fungi products of Xixia Jiajiabao Food, including mushroom cans, crisps and white beech mushrooms are currently transported to Khorgos Port in Xinjiang autonomous region before arriving in the wholesale market of Saint Petersburg, Russia.
Over the past three years, the annual trade value of edible fungi exported by the company to Russia amounted to $40 million, accounting for 65 percent of the Russian edible fungi market. The products used to take 38 days to be shipped to the destination, however, but benefitting from the Belt & Road Initiative, the delivery time was shortened to 15 days with the use of air and land transportation, said Jin Dongliang, general manager of Xixia Jiajiabao.
Xixia, which is located on the border of warm temperate and subtropical zones as well as humid and semi-humid regions, is a perfect place for edible fungi planting and is dubbed as China's "Hometown of Mushrooms".
Local mushrooms were honored as the world's best during the Chinese Edible Fungi Expo in 2016. At present, there are 65 edible fungi export enterprises in Xixia, bringing in revenue of $660 million every year.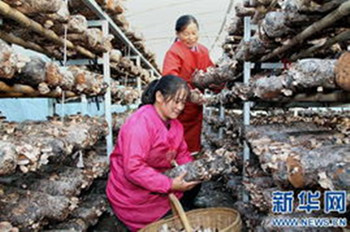 Local workers pick mushrooms in Xixia. [Photo/news.cn]