Nanyang is making significant strides with its medical assistance program, aiming to help local impoverished residents shake off poverty resulting from diseases.
Statistics show that there are 393,000 impoverished people in Nanyang, and for 60 percent of them, the financial difficulties have been caused by illness.
Benefitting from the program implemented as of July, impoverished residents with a Nanyang Hukou (household registration) can apply for a medical assistance subsidy as long as they are covered by basic medical insurance. The subsidy will be covered by municipal and county-level government finance.
Under the program, apart from areas covered by existing basic medical and critical illness insurances, out-patients diagnosed with one of 19 specified chronic diseases such as atrophic arthritis can apply for a reimbursement amounting to 70 percent of the remaining medical expenditure. The accumulative total subsidy for each person can be as high as 20,000 yuan ($3,043) a year.
A maximum subsidy of 12,000 yuan each will be granted to out-patients suffering from 10 types of serious diseases such as end-stage renal disease every year.
A third type of subsidy goes to hospitalization expenses. If the medical expenses that should be paid by the individual, that is, beyond the coverage of basic medical and critical illness insurances, exceed 2,000 yuan, respectively 85, 80 and 70 percent of the excess will be covered by the subsidy without a ceiling, corresponding to treatment in first, second and third-tier medical institutions.
As of Sept 11, 3,978 residents in Nanyang have benefited from the program, which will run on for another year after the financial troubles are relieved.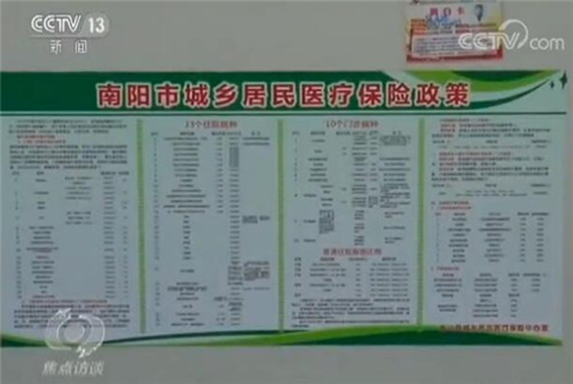 The Nanyang medical assistance program is broadcast on Topics in Focus, a documentary broadcast on CCTV, Sept 12. [Photo/henan.sina.com.cn]
The Nanyang program caught the attention of Topics in Focus, a documentary broadcast on CCTV, which depicted the changes across the country in the past five years.
Zhang Haiyan, a farmer from Xichuan county of Nanyang, was among the first-batch of beneficiaries. Diagnosed with kidney failure six years ago, he spent more than 300,000 yuan on his preliminary treatment.
His three dialysis treatments per week cost him more than 10,000 yuan each year, causing his family to fall into poverty after paying the medical bills. After the implementation of the program, he only has to spend about 30 yuan each month, said Zhang during the interview in the documentary.
Nie Chunlei, an official from the department of primary health under the National Health and Family Planning Commision, said, "We pay particular attention to the poverty-stricken population in the whole system, including the medical reimbursement."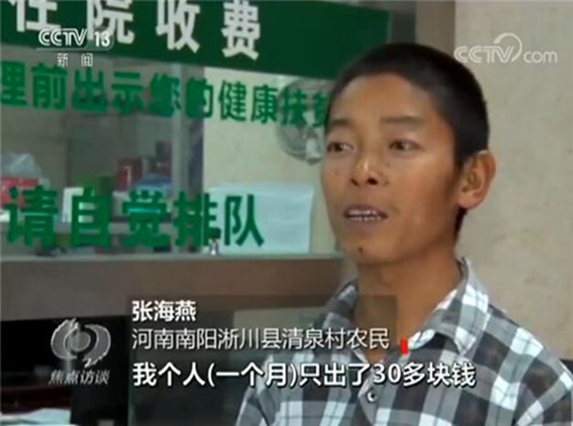 Benefitting from the program, Zhang Haiyan only has to spend about 30 yuan each month, he said during an interview. [Photo/henan.sina.com.cn]