"Here's the intelligent robot. He can dance, exercise, do a handstand..." announces Yuan Di brightly, but her voice trails off as the schoolchildren she is supervising push past her in their excitement to see the robot's performance.
Yuan smiles and waits patiently for the students to calm down. It has been a busy Sunday so far at the science and technology museum in Nanyang's Neixiang county, Henan province, and Yuan is not being paid for her time, but she dismisses the idea that she is doing the museum a favor.
"I don't care about the payments. I feel great to help others," she says. "And the work experience here also helps me learn new knowledge."
Yuan is part of a team of eight student volunteers helping the museum run its "China Science and Technology" summer exhibition, and their enthusiasm has already made a big impression on the museum's visitors and staff alike.
"All the volunteers are excellent in both character and learning," commented one of the museum's administrators, noting that the exhibition had already attracted over 10,000 visitors.
However, though they have played a big part in the success of the exhibition, the volunteers are keen not to hog the limelight.
"We just did what we should do for our hometown. If you insist on naming us in the article, we would be glad to be called Lei Feng," they insisted, referring to the soldier often cited as a symbol of selflessness and devotion in China.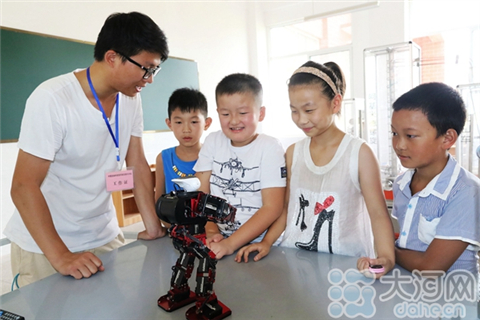 A group of pupil visitors enjoy the exhibition with the help of one of the volunteers. [Photo/dahe.cn]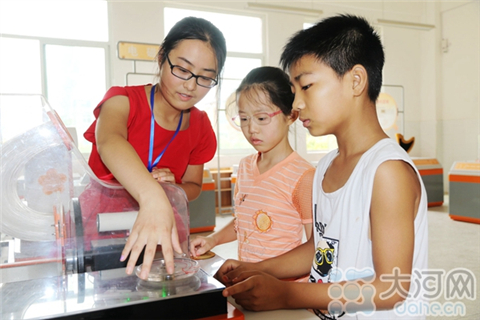 One of the volunteers makes exquisite explanation for the visitors. [Photo/dahe.cn]