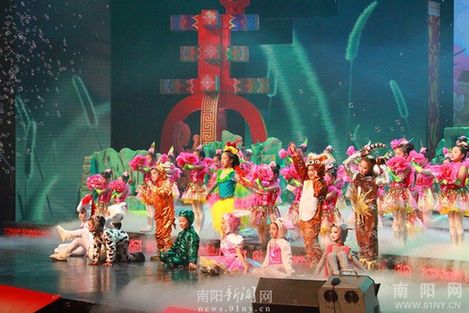 A Children's musical drama is staged at the gala in Nanyang on Feb 1. [Photo/01ny.cn]
Enthusiastic applause reverberated around the studio hall as joyful song and dance routines were performed at Nanyang radio and television center on Feb 1.
The Spring Festival gala, held in Nanyang, Henan province will be televised on Feb 6 and 8:00 pm.
About 600 performers showcased the diligent and outgoing spirit of Nanyang people in various performances.
Among the performances there were comedies such as "Baihe River Memory", cross talk with "The Past and Present of Nanyang", and song-and-dance routines, such as "Realize the Chinese Dream Together" expressing people's love for their homeland of Nanyang and expressing good wishes for the Chinese New Year.
Government officials including Mu Weimin,Nanyang Party secretary, and Mayor Cheng Zhiming, national and provincial models such as Xiang Xiaoli and Zhou Xiangdong, together with people from all walks of life in Nanyang enjoyed and applauded the performances.