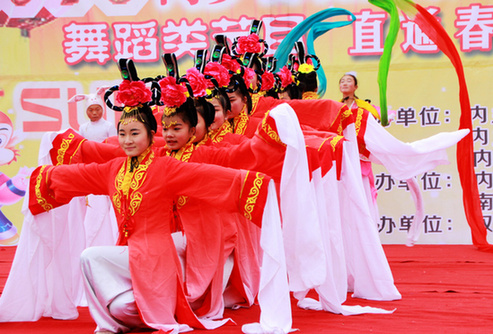 Locals in a traditional dance routine at the Neixiang Spring Festival Gala prelims, on Nov 29. [Photo/neixiang.gov.cn]
In Neixiang county near the city of Nanyang, Henna province, it may be really cold but that didn't stop the dance groups from lining up on Dizhi Square, on Nov 29, to compete for a place among the 30 programs for the local Spring Festival gala.
From kindergartners to grannies, people from all over showed up to show off their spirit through every kind of dance possible, amidst thunderous applause and cheers from the onlookers and with 11 standing out and ready for the next round of competition.
The organizers are Neixiang TV Station and the Tianman Culture Media Co. The Spring Festival gala is designed to give grass-roots groups a chance to get up on stage and show their talent in a festive atmosphere has and it attracted as many as 200 dancers, singers and comedians to the prelims.