A Nanyang prison guard named Sun Jingcheng donated his stem cells on July 17, becoming the first donor from a legal institution in the city, 496th donor in Henan province and 5,033rd nationwide.
His stem cells will be taken to Beijing to help with the treatment of a leukemia patient.
The 32-year-old Sun Jingcheng works in a prison in Nanyang. He has donated a total of 2,800 millimeters of blood voluntarily on seven different occasions since 2003. In May 2011, he offered a sample of his stem cells at a collection point by Nanyang Red Cross Society and became a voluntary donor since then.
"I find donating stem cells very meaningful for my life," said Sun, lying on a bed in a ward in Zhengzhou. He and his wife, Dong Yue, came to Zhengzhou for the sole purpose of donation. Dong Yue became aware of the reason for their visit, which was her husband's stem cell donation, only after they arrived in Zhengzhou. As a nurse, Dong supported her husband's decision and took good care of him following the donation.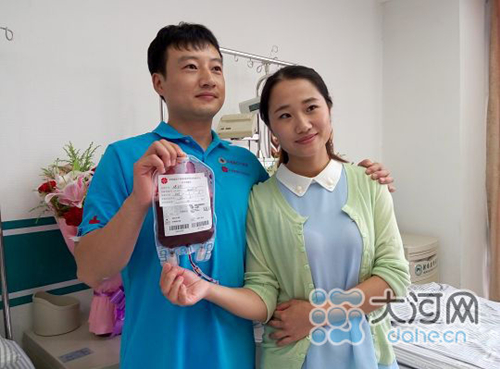 Sun Jingcheng and Dong Yue carry Sun's stem cells. [Photo/dahe.cn]