News
Minxian-Guangyuan rail section undergoes final checks
Updated: 2016-12-05
By Ge Jieru ( chinadaily.com.cn )
The Minxian-Guangyuan rail section of the Lanzhou-Chongqing Railway will start operation on Dec 26, according to the Lanzhou Railway Bureau.
The new section recently passed a comprehensive project acceptance inspection, enabling it to open to the public.
Lanzhou-Chongqing Railway spans 820 kilometers and is a major high speed route that began construction in 2010. It will allow for high speed train travel between Chongqing municipality and Lanzhou, capital of Northwest China's Gansu province.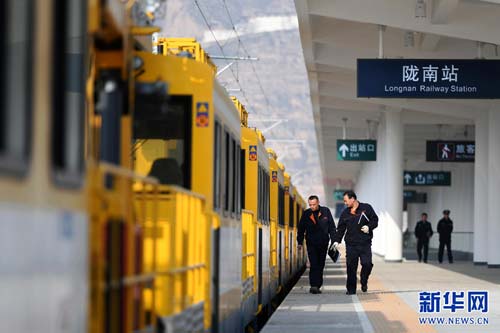 Two employees examine the condition of a working train at Longnan Railway Station on Nov 30. [Photo/xinhuanet.com]