News
Tomb raiders' loot comes home
Updated: 2015-09-25
By Riazat Butt ( China Daily Europe )
Stolen art and other antiquities return to China as the nation gains wealth and clout
This year there was a handover ceremony to mark the return of 32 gold ornaments to China. Among those at the event in July were the French ambassador to China, Maurice Gourdault-Montagne, Gansu province governor Liu Weiping and head of China's State Administration of Cultural Heritage Li Xiaojie.
The ornaments were taken from tombs in Dabuzishan in Lixian county, Gansu province, during the 1990s. Li said at the ceremony that the return of the relics - which had been held by French collectors Francois-Henri Pinault and Christian Deydier - was the result of efforts by both countries.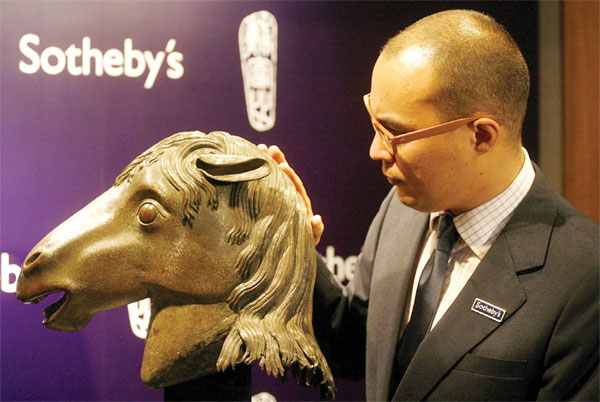 Stanley Ho purchased a bronze horse head for $8.9 million in 2007, and returned it to China. Photos Provided to China Daily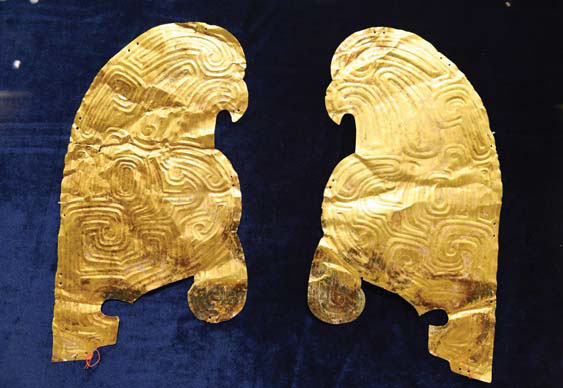 France returned gold ornaments to China this year that came from tombs in Dabuzishan in Lixian county, Gansu province.
It is not the first time that stolen antiquities have returned to China. Nor is it the first time that Pinault, the CEO of luxury conglomerate Kering and owner of Christie's auction house, has made headlines for giving back looted relics.
In 2013 he donated two Qing Dynasty (1644-1911) bronzes looted from the Summer Palace in Beijing, or Yuanmingyuan, more than 150 years ago. The rat and the rabbit, which were part of an elaborate zodiac fountain at the palace, were stolen by French and British troops in 1860 at the end of the Second Opium War.
At a ceremony held at the National Museum, Pinault said: "This act represents the affection and respect of the Pinault family for the people of China. They now return to their old home in Beijing."
The pillaging of the Old Summer Palace is seen as a national humiliation in China, and sales of its relics attract criticism and publicity.
In 2012 auction house Bonhams withdrew a Qing Dynasty jade disc and a jade hanging vase from sale after Chinese authorities protested. Bonhams online description said the two items were "retrieved from the abandoned Summer Palace in Beijing". It later apologized for causing offense.
In an e-mail exchange with China Daily, Colin Sheaf, chairman of Bonhams UK board and Bonhams Asia, says: "To the best of our knowledge all items consigned for sale at Bonhams are legitimately on the market and we'll only undertake to sell items that have been consigned for sale via the correct procedures.
"By publishing our catalogue on the Internet, sending them to the Art Loss Register, a number of museums worldwide and various international government departments, we believe that our sales are sufficiently open to inspection.
"Auctioneers are certainly well aware of the need to ensure that sellers have legitimate title to the objects they wish to sell and give a signed agreement to that effect."
The retrieval of lost cultural relics has become a matter of national pride and a symbol of patriotism. Four Yuanmingyuan bronze animal heads - a monkey, ox, tiger and pig - have found their way to the ninth floor of Beijing New Poly Plaza, a glass and stainless steel angular skyscraper that serves as the corporate headquarters for China Poly Group, which has international trading and real estate as its core businesses.
"When the group promotes its real estate business across the nation, many people tell Poly employees that they are not worried that Poly construction projects will end up unfinished, since it is such a responsible company," former group chairman Chen Hongsheng told China Daily in 2013. "We acquired the animal heads due to our corporate responsibility."
Kate Fitz Gibbon, a lawyer who advises art collections, foundations, galleries and museums, says art repatriations have more to do with China's economic clout and less to do with enforceable law or moral suasion.
"Returns of objects are purely symbolic victories for China. Obviously, in a free market, Chinese purchasers can afford to buy any artwork in the world. China's global economic power is deferred to through returns, whether we are talking about the removal of donated gold plaques from France's Musee Guimet this year or the gifting of bronze animal heads from Christie's. These returns are about gaining favor."
She adds that, increasingly, Chinese art is owned by people in China or Chinese collectors.
"This does not mean that non-Chinese buyers are not sincere collectors and connoisseurs. It means Chinese buyers have the most economic clout. When US owners retire or die, US collections either go to museums - sometimes museums in foreign countries including China - or go on the market. Sotheby's, Christie's, and Bonhams stated that in 2012 more than 70 percent of the Chinese art sold worldwide at auction was purchased by buyers in the Chinese mainland, Hong Kong, Macao and Taiwan."
One non-Chinese collector of Chinese art is US casino mogul and hotelier Steve Wynn. His net worth is about $2.5 billion, and he owns giant properties in Las Vegas and Macao. In 2011 he bought four 18th century vases for 8 million pounds ($12.4 million; 10.9 million euros) to decorate his resort in Cotai, Macao, well above their 1 million pound price tag. Wynn began collecting Chinese art in 2006. Roger Thomas, the design head of Wynn Resorts, made the 2011 purchases for Wynn in London.
Thomas, who has been profiled in the New Yorker and whom Elle Decor called a "Las Vegas design mastermind", says: "The first thing Steve Wynn asked when we started to decide the decoration for the Macao resort was how fortunate we were to be involved in business in Asia.
"We are very grateful for the experience. Let's look at the treasures that were exported from China and let's bring them home as a thank you. He asked me to honor China."
Another casino owner, Stanley Ho, has also returned art to China, purchasing a bronze horse head for $8.9 million in 2007. It, too, was part of the zodiac fountain at the Summer Palace. Media reports at the time said the horse head was taken to France and went into a private collection before going on sale in 1989 in London. An unnamed Taiwan collector paid $400,000 for it and, in 2007, Ho privately negotiated with the Taiwan owner.
"With this move, I hope to encourage more people to take part in preserving Chinese artifacts and to promote patriotism and nationalism," Ho said in the statement from Sotheby's.
To date, seven of the 12 bronze animal heads have returned to China.
riazat@chinadaily.com.cn