News
Using local specialties to give chefs a better life
Updated: 2015-09-16
By Li Xiaoxu ( chinadaily.com.cn )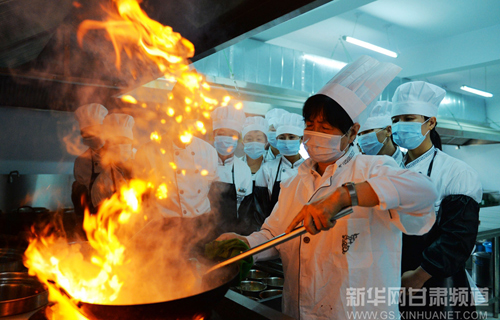 Liu Yaofang, a chef shows how to cook a Huanxian county specialty, on Sept 10. [Photo/xinhuanet.com]
The government of Huanxian county, in Gansu province has been providing training sessions on preparing local dishes and managing a restaurant for almost 300 local people since this past April, to try to help them make a better living.
The government is also helping them through tuition waivers for the training and is even providing cheaper loans or subsidies for them to start their own restaurant. A number of participants have already set up restaurants or butcher's shops around the country.
Local farmers said that they've benefited from the government support and this is reflected in their incomes after starting their own business and the government reports that a good restaurant business can affect upstream industries, such as grain growing and sheep breeding.