Good Samaritan donates 7,000 milliliters of blood in 18 years
( chinadaily.com.cn )
Updated: 2017-02-28
| | | | | | | | | |
| --- | --- | --- | --- | --- | --- | --- | --- | --- |
|   | | Print | | Mail | | Large Medium  Small | | 0 |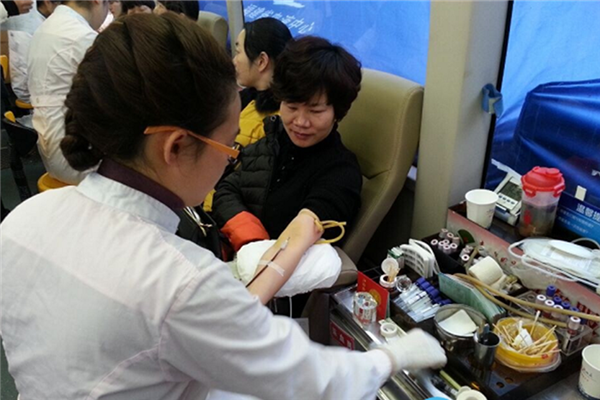 Medical staff from Pingtan Comprehensive Pilot Zone Hospital donate blood. [Photo provided to chinadaily.com.cn]
"Unpaid blood donation has become part of my life," chuckles Chen Fang, Party chief of Pingtan Comprehensive Pilot Zone Hospital.
Dozens of honorary certificates for blood donors are neatly piled up on Chen's desk. In the past eighteen years, the medical worker has donated more than 7,000 milliliters of blood voluntarily, nearly double the total volume of blood in her entire body.
Chen first became a blood donor in 1998, when an unpaid blood donation activity was first held in her home city of Pingtan, a chain of islands off the coast of Fujian province.
"It was my turn to donate blood and I didn't know whether my body would be able to adapt to it," said Chen. "But as the head nurse at the time, I wanted to take the lead."
Chen rolled up her sleeves, and watched 200 milliliters of blood flow out of her vein quietly. After finishing, she felt a surge of pride that her blood may become a life-saving gift for others.
Chen didn't feel any kind of discomfort after her first blood donation, and she soon became a "regular customer" at Pingtan's local blood donor center.
However, the center was closed down in 2000, and since then Chen has had to find time to donate blood during business trips to Fuzhou, the provincial capital of Fujian province.
"Taking the bus directly to the blood stations at Wuyi Square or the Post and Telecommunications Complex in Fuzhou has become my habitual practice after attending business meetings," said Chen.
Chen has even been willing to risk her own health in order to help others. In October 2000, she was recovering from a serious car accident, which had resulted in her needing brain surgery, when she heard that a patient was undergoing emergency surgery at her hospital but that there was not enough O-type blood in the hospital's blood bank. She immediately rushed to the hospital and told the medics she was willing to donate her blood.
When the staff on duty checked her blood donor card, they found Chen had donated blood just three month ago, and considering she had not fully recovered from her surgery, they all suggested her not to go through with giving blood. However, Chen jabbed the needle into her vein herself.
"Chen Fang is always at the frontline of blood donations,--she's like a mobile blood bank," commented one of Chen's colleagues.
"Many people have misunderstandings about voluntary blood donations," said Chen. "They think it is neither rewarding nor good for your health."
Chen is determined to disprove their concerns through her own personal practice.
"Repeated blood donation is effective in reducing blood pressure, blood glucose, HbA1c, low-density lipoprotein/high-density lipoprotein ratio, and heart rate in patients with metabolic syndrome," she stated. "If someday I was told I wasn't qualified to be a donor, I would feel very sad."
In 2008, Chen Fang also took part in a hemopoietic stem cell donation activity, and in 2015, she was awarded the national bronze medal for blood donors.
Influenced by Chen, a total of 12 her colleagues have joined her to become voluntary blood donors so far.
"I shall continue to be a voluntary blood donor, contributing my own part to save endangered lives, and I hope more people will join us," said Chen.