Coventry University is a vibrant and growing University with 25,000 students in the UK and a further 8,000 students studying for Coventry University degrees at overseas partners. In 2013, it was named as the UK's no 1 modern UK university, ranking in the country's top 20 for the quality of its teaching. It has several academic disciplines that are rated particularly highly including art and design (14th), business and management (12th), mathematics (19th), modern languages and linguistics (12th), and media studies and communications (16th). In addition, it has a recently opened engineering and computing building with a recognised focus on teaching excellence supported by activity-based and problem solving learning.
Dr David Pilsbury, Pro Vice-Chancellor (Internationalisation) stated that, 'With our emphasis on providing an excellent student experience underpinned by a commitment to internationalisation. We are able to provide Chinese students with a first class preparation for the increasingly international world of work'.
With two UK campuses, one in the heart of England, just over an hour from London by train, and a second campus right in the middle of London's financial district, Coventry University offers Chinese students choice in their location of study and a constant commitment to high quality teaching, excellent student support and first class opportunities for work placements and international engagement. All students have personal tutors, academic and employability advisors, optional in-sessional English support and relevant academic study skills.
Named in 2011 as the UK's 'Entrepreneurial University of the Year', reflecting in part its long engagement with industry, Coventry University also has significant partnerships links with many major companies. Our industry links in conjunction with the many professional accreditations associated with our degree programmes, means that students can acquire real world business skills and apply theory to practice. The University's highly popular 'Global Leaders Programme' also provides students with additional access to listen and learn from numerous Chief Executives who provide a series of leadership lectures throughout the year.
There are over 5000 international students from more than 130 different countries and our two campuses are a vibrant community of students and scholars from all around the world creating a truly international environment. With its high quality courses, its business-facing approach, its emphasis on employability and internationalisation, Coventry University offer a world of opportunity.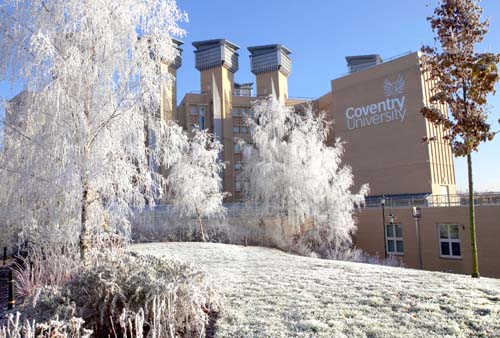 Lanchester Library