Introductions
Founded in 1954, Shanghai Normal University(SNU)was then named Shanghai Teachers Training College. The university has 16 colleges and 81 research institutes. Also located in SNU are Shanghai Teachers Training Center and Shanghai College Teachers Training Center. SNU now has two campuses: Xuhui covering an area of 700 Mu (equal to 1/15 of a hectare or 1/6 an acre), and Fengxian 1, 800 Mu.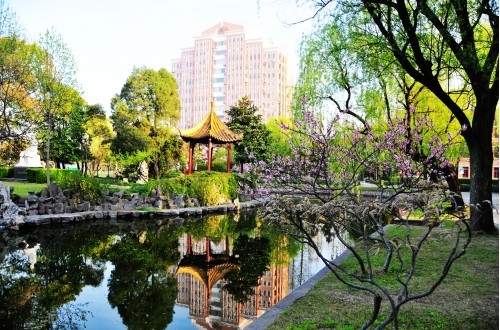 SNU is abundant in teaching resources. While Xuhui features antique atmosphere, Fengxian is comparatively of modern tint. SNU claims its unique lab center, gymnasium, and library for students' amenities.
A key university in Shanghai, SNU is a comprehensive local university with salient features of teacher training and particular strength in liberal arts. SNU boasts 84 undergraduate majors, 104 disciplines qualified to confer master's degrees, and 22 for doctoral degree, and 6 for post-doctor stations. SNU also boasts 2 top level discipline for doctor's degree, and 5 professional degrees for master's programs. SNU has a teaching staff number of 2,982, and 1,722 professional teachers.
There are 13 Shanghai Key disciplines, 15 Key Disciplines of Shanghai Municipal Education Commission, 3 Shanghai Key Research Base of Humanities and Social Sciences of Universities in Shanghai, 2 Shanghai Key Labs, and 1 Key Lab of Shanghai Municipal Education Commission.
SNU prides on the national key subject, state key disciplines, e-research college in shanghai, key discipline and education programs of shanghai, key lab funded by China Ministry of education, and key lab funded by Shanghai Municipal Education Commission.
With a global view, SNU has established communications with over 200 universities and academic institutions from 30 countries. SNU has shouldered a series of international cooperation programs with the US, Germany and Japan. Moreover, a few Confucius Institutes have been established in Asia, Africa and America. Every year, more than 2,000 foreign students choose to study in SNU, and SNU teachers visit and study in universities abroad. SNU students do internship overseas. Over 100 foreign teachers teach in SNU and the affiliated departments. The biannual SNU International Arts Festival staged a unique cultural ambience.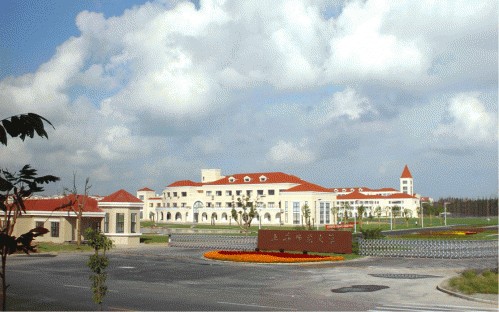 In order to serve international students better, our university has founded the International Students Office subordinated the International Exchange Division for consulting the related policies, transacting the admission procedure, making the certificates, applying for the degrees and the diplomas, and the management of students affairs. Meanwhile, in International Students Center (ISC), we supply facilities covering Internet, Study, Gymnasium and Lounge.
International College of Chinese Studies (ICCS) is the particular college to provide Chinese language programs to international students in SNU. With the first-class teaching faculty, ICCS attracts nearly 2,000 international students from more than 40 countries all over the world every year.
ICCS provides short-term Chinese programs, long-term Chinese programs, Bachelor's degree programs, Master's degree programs and Ph. D. programs. ICCS is one of the official training bases for Chinese teachers and principals of overseas Chinese schools authorized by Overseas Chinese Affairs Office of National Council.
ICCS is one of the official test centers of National HSK (Hanyu Shuiping Kaoshi: Chinese Proficiency Test), National R&D Center of HSK (Tourism) and New HSK (Advanced Level). ICCS has Shanghai Key Discipline of TCFL (Teach Chinese as a Foreign Language), Institute of Applied Linguistics of Shanghai Key Research Base and the journal of Research on Teaching Chinese as a Foreign Language.
ICCS has rich resources of teaching staff and 90% of them have overseas teaching experience. ICCS has completed and is conducting many national and municipal research projects. ICCS boasts its unique language environment with both Chinese students and international students studying in the same college. Lots of interactions are encouraged among students to create multi-lingual and multi-cultural environment.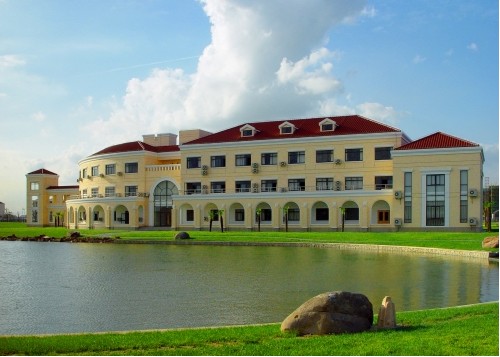 Scholarships
1. Shanghai Government Scholarship
1) Class A —For Master's applicants and Ph. D. applicants (Covering Tuition fee, accommodation, medical insurance)
2) Class B —For undergraduates, Master and Ph. D. applicants (Covering Tuition fee)
3) Class C —For registered undergraduates, Masters Ph. D. students (about RMB 5,000 per year per student)
2. National Scholarships
(SHNU is one of the authorized universities to accept international students sponsored by national scholarships)
1) Confucius Institute Scholarship/ Hanban Scholarship
Applicants should apply for Confucius Institute Scholarship On-line: http://cis.chinese.cn.
Headquarter of Confucius Institute in Beijing is in charge of Confucius Institute Scholarship.
Website for Hanban Scholarships: http://english.hanban.edu.cn/jiangxuejin.php
Hanban in Beijing is in charge of Hanban Scholarship.
2) Chinese Government Scholarship
For Chinese Government Scholarship, students should apply to Chinese embassy or consulate in their own countries. China Scholarship Council in Beijing is charge of Chinese Government Scholarship.
Website for Chinese Government Scholarship: http://en.csc.edu.cn/Laihua/
Majors:
Bachelor's Degree (4 years)
Chinese Language
Chinese Language and Culture
Chinese Literature
Literature of Drama, Film and TV
Chinese as a Foreign Language
Editing and Publishing
Historiography
Classic Philology
Social Work
Archival Science
Public Relationship
Photographing
Cultural Industry
Advertising
Journalism
Ideology and Politics
Philosophy
Law
Human Resource
Administration
Labor and Social Security
Economics
Electronic Business
Real-estate Management
Financial Management
Real-estate Assessment
English
Japanese
Public Administration
Primary Education
Applied Psychology
Pre-school Education
Pedagogy
Mathematics and Applied Mathematics
Information and Computer Science
Statistics
Physics
Computer Science and Technology
Education Technology
Telecommunication Engineering
Chemistry
Biology
Biotechnology
Food Science and Engineering
Gardening
Science Education
Environmental Engineering
Applied Chemistry
Chemical and Engineering Technology
Geography
Economics and Management of Exhibition
Tourism Management
Geographical Information System
Environment of Recourse and Urban & Rural Planning
Machine Designing & Manufacturing and Automation
Electronic Information Engineering
Electrical Engineering and Automation
Automotive Service Engineering
Engineering Management
Civil Engineering
French
Finance
Financial Engineering
Investment
Insurance
Sports Education
Social Sports
Musicology
Dance
Music Performance
Recording Arts
Fine Arts
Oil Painting
Calligraphy
Art Design
Sculpture
Art of Performance
Designing and Directing of Film & TV
Recording and Emcee
Master's Degree (3 years)/General Scholar (1-2 years)
Chinese Philosophy
Marxism Philosophy
Foreign Philosophy
Ethnics
Esthetics
Religions
Philosophy of Science Technology
Political Economics
National Economics
Industry Economics
Law
History of Law
Politics
Foreign and Domestic Political System
Socialism and Communism Movement
The History of Chinese Communism Party
International Politics
International Relationship
Folklore
Marxism Principles
History of Marxism's Development
Research of Chinese Marxism
Research of Foreign Marxism
Pedagogy
Curriculum and Teaching Methodology
Education History
Comparative Education
Preschool Education
Advanced Education
Adult Education
Career Education
Basic Psychology
Developing and Education Psychology
Applied Psychology
Sports Education
Sports Training
Literal Arts
Linguistics and Applied Linguistics
Chinese Character
Chinese Classical Philology
Chinese Ancient Literature
Chinese Modern Literature
Chinese Minor Language
Comparative and World Literature
Urban Culture
English Language and Literature
Linguistics and Applied Linguistics
Broadcasting
Musicology
Find Arts
Design Arts
Film and TV Arts
Theory and History of Historiography
Historical Philology
Special History
Chinese Ancient History
Modern and Contemporary History
World History
Basic Mathematics
Computational Mathematics
Probability and Mathematical Statistics
Applied Mathematics
Operations Research and Control Theory
Theoretical Physics
Inorganic Chemistry
Analysis Chemistry
Organic Chemistry
Physical Chemistry
Polymeric Chemistry and Physics
Astrophysics
Natural Geography
Human Geography
Botany
Zoology
Hydrobiology
Microbiology
Genetics
Biochemistry and Hydrobiology
Education Technology
Computer Software and Theory
Applied Computer Technology
Environmental Science
Telecommunication and Information System
Applied Chemistry
Industrial Catalysis
Tourism Management
Administration
Education Economics and Management
Doctoral Degree (3 Years)/Senior Scholar(1-2 Years)
Chinese Philosophy
Research on Chinese Marxism
Curriculum and Teaching Methodology
Psychology of Development and Education
Literal Arts
Linguistics and Applied Linguistics
Chinese Graphology
Chinese Classical Philology
Chinese Ancient Literature
Chinese Modern and Contemporary Literature
Chinese Minor Language and Literature
Comparative and World Literature
Urban Culture
Theory and History of Historiography
Historical Philology
Special History
Chinese Ancient History
Chinese Ancient and Contemporary History
World History
Computational Mathematics
Environmental Science
Registration Fee:RMB 450 Yuan
Tuition Fee:Yuan/Year
Language Student: RMB 17600(General Chinese)
RMB 34000(Intensive Chinese)
Bachelor Student: RMB 20000(Bachelor of Arts ) RMB 20800(Bachelor of Science)
RMB 25000(Bachelor of Sports & Art)
Master Student: RMB 22400(Master of Arts)
RMB 23200(Master of Science)
RMB 30000(Master of Sports & Art)
Doctoral Student: RMB 23500(Doctor of Arts)
RMB 26500 (Doctor of Science)
Teaching Materials: charged as the real price of textbooks
Accommodation: Double Room:RMB 40-80Yuan/Person/Day
Single Room:RMB 75-83Yuan/Day
Contact Information
International Students Office, Shanghai Normal University, No.100 Guilin Rd. Shanghai 200234 P.R. China
Tel:0086-21-64323905
Fax:0086-21-64321082
Mail:helen_zxh@shnu.edu.cn
Web:www.shnu.edu.cn