Thomas Stead of Yew Chung International School of Beijing Discusses the Role of an Artist in Residence Programme within Schools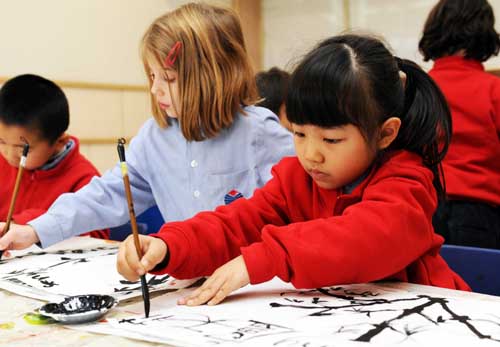 Daily School Life  (Photo provided to China Daily)
Educators across the globe understand the importance of Art as a vital component in contributing to a fully rounded and balanced education. The study of Art is linked to many of the assets that parents want for their children including social and emotional development. Research studies have shown that Art education enables students to enhance their ability in Math study, reading, critical thinking and communication. One successful way to achieve these goals is the implementation of an 'Artist in Residence Programme'. An Artist in Residence is a commercial artist who although not a teacher, will work with students on projects, sharing their knowledge and experience from a real world perspective.
Sara Barati, Artist in Residence at Yew Chung International School of Beijing (YCIS Beijing) describes the way she works with students, "I often teach specific skills or more in-depth studies about a particular medium or art technique. I am available to help all students at YCIS, in any year level. I also help integrate Art into other subjects including Math and Science. Therefore, the work as an Artist-in-Residence varies and expands to the whole campus. Within the Art curriculum itself, my role is to take units from the Art curriculum and use them for in-depth workshops or projects, helping students to build a deeper knowledge and understanding of how they can apply what they have learnt to the world outside the classroom."
Indeed, it is this role as an advisor that is one of the greatest benefits on having a commercial artist on campus. For Art students, an Artist in Residence can offer advice that goes beyond a standard Art curriculum. Forest Bright, also an Artist in Residence in Beijing believes that it is important for students to immerse themselves in the Art world, "Visiting galleries is a great way to hear stories and perspectives you might not encounter otherwise." It is such stories and perspectives that open student's minds and instills the idea of accepting other's opinions. These are necessary attributes that they can carry with them for the rest of their lives.
For those artists who attempt the extraordinary or the controversial, criticism can inevitably follow. However, Barati does not see this as a difficult barrier for students to contend with, "Criticism is a natural part of life that everyone will experience at some stage. However, criticism is a great way to change and grow for all students, not just as an artist. Students should always be prepared to listen to advice from others."
Elizabeth Friel, an artist in Beijing believes China has a great deal to offer in the Art industry, "China's art scene has exploded over the past decade, and Beijing is at the heart of it. With new wealth in the country, records are being broken in auction houses for contemporary art and antiques every year. The scale and quality of the work produced in China is stunning and for students to get involved in this international scene can only be beneficial to their overall development."
Daisy Chau, a Year 13 international school student in Beijing will study Art History at the University of Pennsylvania (UPENN) next year and she explains her decision to pursue a career in the industry, "Everyone, critics and non-critics alike, all deserve to feel the satisfaction they feel from being able to make sense of what they see. This is why I have chosen Art History as my major. As the Art scene begins to develop in China, it needs knowledgeable artists and experts to help the public develop their own method of interpreting the growing volume of Art surrounding us."
The benefits of studying Art transcend far the general mediums of learning how to draw and paint. It has expanded greatly in recent years especially during the technological age. Students who wish to pursue a career in Art have a wealth of choice these days from architectural illustrators and 3D artists to fashion designers and filmmakers. As a result, the experience and professional knowledge of an Artist in Residence provides an unmatched resource within a school environment.