Nightlife of Xi'an
When the night falls and stars start to sparkle in the dark-blue sky, Xian takes off her tired working clothes and put on a gorgeous evening dress to join in a real carnival.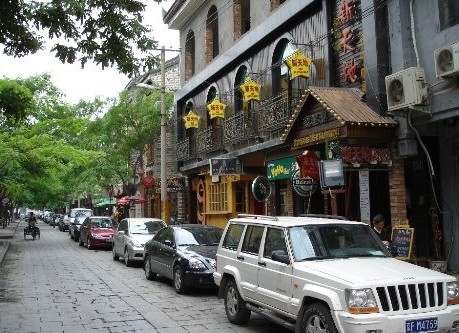 Recommended bars, clubs and cinemas
De Fu Xiang
Although with a length that less than one mile, De Fu Xiang is actually the central part of nightlife in Xian. Scattered with over 40 bars, cafes and teahouses, it always takes on a quaint and graceful look. The bar is mainly middle and up class oriented, decorated romantically, full of cozy and exotic atmosphere. Invite yourself a cup of wine to get fully relaxed.
1+1 Disco Bar
Located at No. 285 Dong Dajie, 1+1 Disco Bar is the most well-known dance club in Xian. One plus one equals what? This famous question might have many different answers for different people. Here, in the bar, the answer simply means "living it up". Decorated in a trendy style, it includes a Disco Hall, a Slow Bar, a Champagne House and a pool in the court yard. DJs here are passionate and dancers are hot, providing you with top visual and acoustic enjoyment.
Xian Oscar International Cinema
Address: 6/F, Xingzheng Yuan Plaza, No. 1, Luomashi, Beilin District
Tel: 029-87656866
Wanda International Cinema
Address: 4/F, Wanda Plaza, No. 8, Yanta Road, Beilin District
Tel: 029-87859999
Xian Hongye Cinemas
Address: 9/F, Lifeng International Plaza, No. 56, Jinhuanan Road, Beilin District
Tel: 029-87281677