Tang Dynasty Music and Dance Show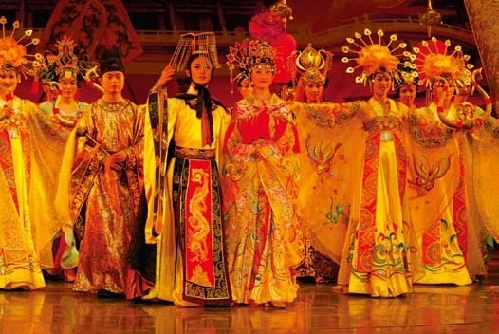 With a blaze of color and pageantry, Tang Dynasty Music and Dance Show is definitely a feast for your eyes. Xian, known as Chang'an in ancient times, had served as capital for 13 dynasties, among which the Tang Dynasty was the most outstanding one for its wealth and power. And Tang Dynasty Music and Dance is just the major symbol of the essence of Tang culture. The show usually contains magnificent singing and dancing scenes, being an immortal portrait of its prosperity.
The show was originated from folk fetes, where our ancestors, with rhythmical gestures, prayed for a peaceful and happy life. Their dream came true during the early and middle periods of the Tang Dynasty, when the royal court ruled well and people lived in harmony. Besides, the culture and arts also flourished as ever before, with music and dance reaching their peaks. By absorbing the essences of music forms of the previous dynasties, ethnic minority groups as well as western countries, the show has finally evolved into a spectacular performance combining all the poetry reciting, instruments playing, singing and dancing together. When enjoy it, you must be moved a lot by the excellent performance.
    Shaanxi Grand Opera House
Address: No.165, Wenyi Road, Xian.
Show time: 8 p.m.---9 p.m.
Tel: 0086-29-87853259; 0086-29-87853304
How to get there: take bus NO.14, 21, 118, 214, 309, 508, 700.
Tang Dynasty Palace
Address: No. 75, Chang'an Road, Xian
Show time: 8:30 p.m.---9:40 p.m.
Tel: 0086-29-87822222
How to get there: 12, 14, 26, 31, 216, 239, 521, 603.