China Intellectual Property
Web portals now feed demand for foreign TV series
By Hao Nan(China Daily)
Updated: 2013-06-26
---
In an effort to repeat the success Sohu had when it imported the hot US TV series House of Cards earlier this year, other major Chinese video websites are jumping on the bandwagon with plans to introduce more foreign films and dramas, according to the China Press and Publishing Journal.
The scale of China's online video market reached more than 2.4 billion yuan ($391 million) in the first quarter of this year, increasing 39.5 percent year-on-year, according to statistics from iResearch Co, a leading Chinese company specializing in Internet research.
Online shows from abroad have advantages compared to traditional TV programs because the open-minded attitudes and multiculturalism they display appeals to Chinese viewers, industry insiders say.
Standing out amid fierce competition is the biggest challenge for Chinese video portals.
The large video websites, such as Sohu, Youku and Tencent, earn most of their income from providing free foreign productions.
Sohu is now providing more than 100 authorized US dramas, and Youku has special channels for the United Kingdom as well as exclusive TV shows from Hong Kong.
Sites are not just responsible to the audience, media insiders say. They must appeal to advertisers to stay profitable.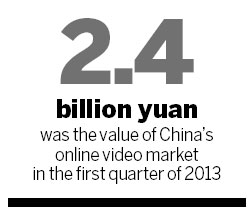 When buying the rights to films and TV shows, it is important to balance the interests of these two sides, which means satisfying the audience while generating revenue for advertisers, industry insiders said.
A Youku executive said the company will consider several important aspects of any overseas TV series that they plan to introduce, including its reputation and international influence.
Audience ratings, or the data flow brought by the shows, must be taken into account, the executive explained, because it indicates the investment potential and will affect ad sales as well as the user experience at the portal.
Ma Ke, a senior director with the Sohu copyright procurement center, said the company is now finding it much easier to get authorization from foreign companies.
The first overseas TV series introduced by Sohu was the US show Lost in 2010. When recalling this period, Ma used the word "difficult" many times.
She said they had no experience with this type of cooperation and neither did the US company. The negotiation was more like a war, she said - it was tough and almost failed.
It took nearly half a year to reach the final deal, and the contracts in Chinese and English contained hundreds of pages.
Due to growing awareness about copyright protection on the part of video websites as well as consumers, the business climate has largely improved, according to the China Press and Publishing Journal.
And, many foreign film and drama production companies have begun to seek greater cooperation with Chinese video portals, according to the newspaper.
Ma said Sohu will mainly promote US productions this year by inviting TV stars to China and other related activities.
For Tencent video, the important part of its overseas copyright strategy lies in UK TV shows.
The portal has exclusively introduced some 13 UK TV series through cooperation with six copyright owners, including BBC Worldwide and ITV Studios.
haonan@chinadaily.com.cn
(China Daily 06/26/2013 page17)
Steve Jobs died the month that the latest Nobel Prize winners were announced. The coincidence lends itself to speculation about inevitability.