Volunteer team bails out busy court
By Zhang Zhao(China Daily )
---
Yu Tianjiao, a second-year student from the Beijing College of Politics and Law, answers more than 30 telephone calls a day at the litigation service hall of the Beijing Intellectual Property Court.
In addition to handling questions about registration and lawsuit procedures or how to get to the court, she handles many litigation documents sent to the court by mail or by hand, taking them to the registration department and informing senders if there are problems with their submitted materials.
Yu is one of 230 college student volunteers from 17 universities at the court.
The volunteer team was established in March 2015, the first of its kind nationwide. As a measure to increase judicial transparency by the Beijing IP court, they offer litigation services and assistance in court hearings.
Su Chi, president of the court, said the court features a "flat management model with a highly streamlined organization". He added that the volunteers have recently improved their quality of service.
"The team is an innovation in management model and a new attempt to increase judicial credibility," he said.
Du Changhui, head of the court's case registration office, said the introduction of the volunteers is "an effective supplement of the court's manpower".
Du said the court, which handled more than 9,000 cases last year, had 25 judges at the beginning of that year, each with only one assistant and one clerk. With the volunteers, each judge could have an additional assistant and an additional clerk, allowing the team to work more efficiently.
The volunteering work has also provided opportunities for the young students to undergo legal training. The court arranges the volunteers' assignments according to their educational backgrounds, majors and occupational plans. There is an examination period of 15 to 20 days before their appointment in which they will receive training on various subjects such as volunteer service concepts, professional ethics and confidentiality.
Each volunteer will get a bilingual certificate after they wrap up their work on the team that will help pad their resumes when they look for a job or further their education.
"My job is to answer phone calls and handle mails from all across the country. I was once afraid I would learn nothing professional during my half-year service," said Yu. "But now I think I have gained a lot, not only about legal practices, but also about how to communicate with people."
The litigation service sector, which Yu works in, received nearly 15,000 visits by November. They offered nearly 3,000 consultations and answered more than 3,600 phone calls.
zhangzhao@chinadaily.com.cn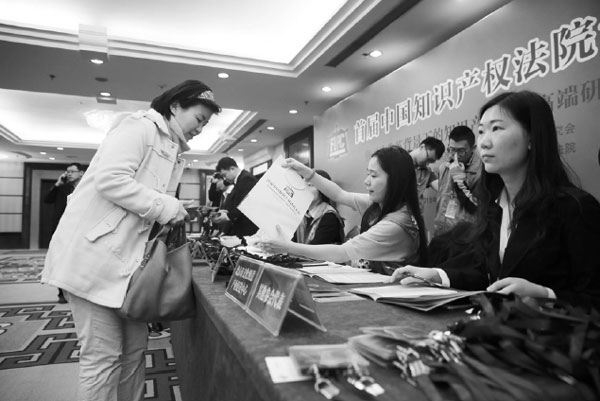 Volunteers at the Beijing Intellectual Property Court at an April forum for IP courts held in Beijing. Photos Provided To China Daily
Steve Jobs died the month that the latest Nobel Prize winners were announced. The coincidence lends itself to speculation about inevitability.