A women and children's health campaign was held in Guangzhou, Guangdong province on Nov 6. The program was jointly hosted by the Chinese Center for Disease Control and Prevention and the China Women Activity Center with received guidance from the National Health and Family Planning Commission and the All-China Women's Federation. Wang Qiaomei, deputy of the NHFPC's women and children department, attended the kickoff ceremony and delivered a speech.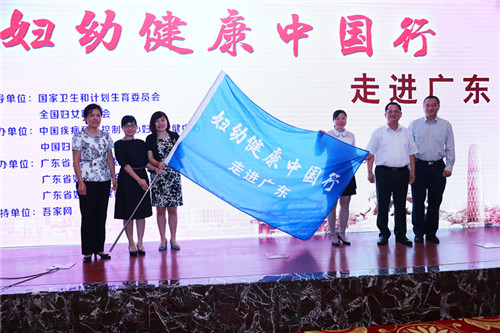 The program has been staged in 15 provinces (autonomous regions and municipalities), including Beijing, Jiangxi, Guangxi and Henan, to improve understanding of women and children's health. Training and public health education was staged during the program to bring knowledge, ideas and skills to rural areas.
Wang pointed out that the program not only boosts medical reform but also serves the public. Guangdong has deepened health reform and strengthened public health services. Local health and family planning work has made great strides. The province has built a women and children/s health work mechanism led by government, involving different departments and participated by all public. It has taken measures, such as personnel training, subsidy and publicity education, to push for birth defect prevention and treatment. The improved health service capacity and implementation of major public health projects have greatly benefited local women and children. Wang hoped that Guangdong could continue to keep up the good work, consolidate reform achievements, ensure health safety and quality, and take care of all women and children health work. Wang called for more efforts in safeguarding health of the two groups and reducing birth defect and disability.
At the kickoff ceremony, hosting parties donated health education materials to women and children's healthcare and development guidance facilities in Guangdong.
More than 200 people were present at the event, including officials from the NHFPC's women and children department and the Center for Disease Control and Prevention's material and child hygiene center.