Charles Zhang
(www.wikipedia.org)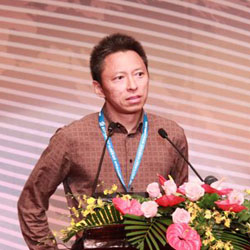 Charles Zhang is a Chinese businessman, investor and the Founder, Chairman and current CEO of Sohu.com Inc. (Photo from the Internet)
Charles Zhang (Zhang Chaoyang)
Charles Zhang is a Chinese businessman, investor and the Founder, Chairman and current CEO of Sohu.com Inc. Zhang is regarded as one of the China's Internet pioneers and was named by Forbes Magazine as one of the richest men in China in 2003.
Early life and education Born to a humble family, Charles Zhang's parents were residential physicians at a small arsenal near Xi'an, China. Zhang became interested in science from a very young age. As he excelled at school, Zhang was accepted to study Physics at the prestigious Tsinghua University in Beijing. Upon his graduation in 1986, Charles Zhang received a full scholarship from Nobel Prize Physicist Tsung-Dao Lee to attend graduate school at Massachusetts Institute of Technology (MIT) in Cambridge, Massachusetts, USA.
Zhang graduated from MIT in 1993 with a PhD in Experimental Physics. He then went on to serve as MIT's liaison officer for China.
Founding of Sohu Soon after leaving MIT, Dr Zhang joined Internet Securities Inc (ISI) in November 1995 and returned to Beijing to establish the ISI China operation. While at ISI, Zhang quickly envisioned an Internet search engine company. Charles Zhang started his own company, Internet Technologies China (ITC) in 1996 with two fellow MIT Professors and with the help of venture capital. It was also the first VC funding of a Chinese Internet company. In May 1997, after a meeting with Jerry Yang, Zhang decided to transform ITC and changed its name to Sohu.
Sohu and its search engine quickly became a household name in China. In order to raise capital, Zhang managed to successfully conduct mergers with four other Chinese internet companies. On July 12, 2000, Sohu was listed for trading on the NASDAQ – GS.
During the dotcom crash in the early 2000s, Sohu's stock dropped below $1, many board members and investors wanted to replace Zhang. He credited his non-confrontational style for being able to stay on.
Today, Sohu is one of the most well known Chinese Internet stocks, with a market value of 2 billions dollars at approximately $45 USD/share. Internet Community Blogging and Short-messaging service, which helped the company turn around and generate revenue worth $750 million in China in 2002, accounted for 48 percent of company's revenues in 2004 and 2006.
| | | |
| --- | --- | --- |
| | | Founder, Chairman and current CEO of Sohu |