Destination: Mt.Huangshan, Yixian, Tunxi        
Duration: 5 days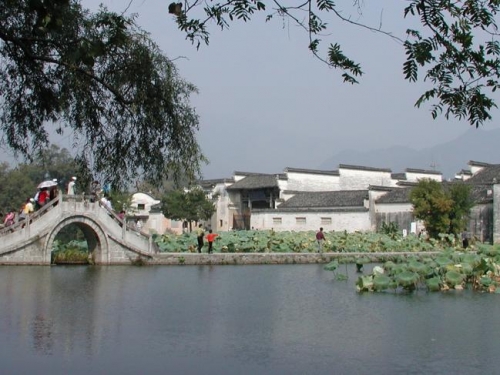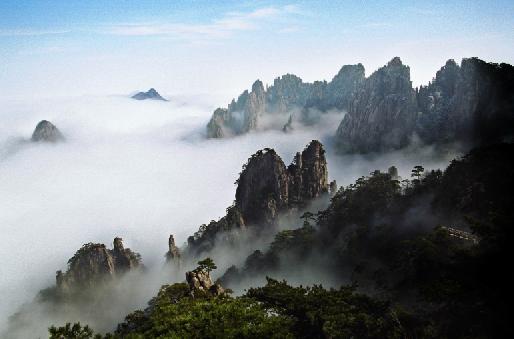 This trip boasts of the most beautiful landscapes and brilliant culture in East China. You will enjoy your trip to Mt. Huangshan a famous World Cultural and Natural Heritage site and a Global Geopark, and another world heritage site Xidi Hongcun, two well-preserved ancient villages for several hundred years old, which are considered a wonder in the history of architecture due to their grotesque designs. Besides, you'll have a chance of touring the ancient Tunxi Street and buy some souvenir there.
Day 1 Fly to Tunxi—the seat of Huangshan city government,which lies in the southern part of Anhui province -After arrival, hotel in.
Recommended Hotel:Huangshan Golf Hotel [5 Star]
Day 2 After having breakfast in the hotel, drive to the Cloud Valley Cableway Stop. After arrival, head for【White Goose Ridge】by cableway from there, then successively pay a visit to the following attractions:【Shixin (Beginning to Believe) Peak】-【Lion Peak Scenic Area】-【West Sea Scenic Area-Cloud Dispersing Pavilion】and etc.
Recommended Hotel: Xihai hotel [4 Star]
Day 3 Watch sunrise on the【Lion Peak Scenic Area-Refreshing Terrace】early in the morning, then go back to the hotel to have breakfast After breakfast, set out to visit【Flying Stone Scenic Area】-【Bright Summit Scenic Area】-【Sky Sea Scenic Area】-【Jade Screen Pavilion】etc.
Recommended Hotel: Huangshan Beihai Hotel [4 Star]
Day 4 After breakfast, visit the typical pine of Mt. Huangshan, you can take photos there and then down the mountain by Cloud Valley Cableway - Bus to Hongcun and pay a visit to the World Cultural Heritage【Hongcun Village】and lunch there. In the afternoon, pay a visit to 【XidiVillage】, then hotel check in and have dinner.
Recommended Hotel: Jinling Yixian Hotel [4 Star]
Day 5 After breakfast, head for【Huashan Mysterious Grottoes】which is an ancient mystery with a history of 1700 years - Then visit【Tunxi Ancient Street】. After lunch, pack up and head for airport to return home. End of the pleasant journey!