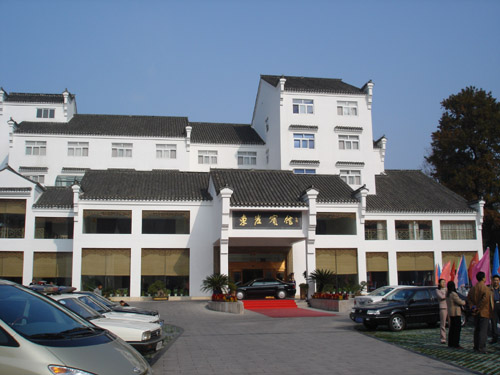 Dongya Hotel
Dongya Hotel is a four-star tourist hotel located in the center of Jiuhua Mountain scenic area. It is among the best hotels in the area.
It is known for its quiet environment, unique architecture, convenient transportation and professional services. The hotel has recently been restored with an entire new look, reflecting its 1000-year cultural heritage.
Its quiet and elaborately designed guest rooms provide a comfortable and luxurious environment. All rooms are decorated in soft colors and fitted with all the necessary facilities and services, including central air conditioning, private bathroom, background music, domestic and foreign television programs, and telephone services. Elegantly furnished, the rooms enable you to rest in comfortable surroundings. Dongya Hotel restaurant has an oriental appearance, simple yet elegant. It offers delicacies of local flavors, such as farm-flavored snacks, traditional Anhui cuisine, dishes with ingredients of flowers and plants from Jiuhua Mountain, nutritious health food and Buddhist vegetarian food, giving you the chance to appreciate the true essence and taste of classic Buddhist culture.
Website: http://dy.jhshotel.cc/
Add: No 8 Huacheng Road, Jiuhua Mountain scenic area, Chizhou city, Anhui province, PRC (242811)
TEL: 0566-2831370
FAX: 0566-2831372
E-mail: jhsdongya@163.com