Intl ceramic art exhibition to be staged in Changchun
The 8th China Changchun International Ceramic Art Invitational Exhibition & the 1st "Lotus Mountain Prize" International Ceramics Contest will be held at Changchun Lianhuashan (Lotus Mountain) Eco-tourism Resort in Changchun, capital of Northeast China's Jilin province, from July 22 to Aug 12, according to a press conference held here on July 16.
The event is hosted by the management committee of Changchun Lianhuashan Eco-tourism Resort, the foreign affairs office of the Changchun municipal people's government, Changchun trade promotion committee, and Changchun publishing house, with the aim of promoting Chinese culture and cross-national artistic exchanges in the ceramics sector.
According to the latest data, more than 50 ceramists from 29 countries and regions will participate in the event, to showcase their skills in ceramics.
In addition to ceramics making, this year's event will include an opening ceremony, ceramics forums and contests, and public day activities.
From 2011 to 2018, Changchun has successfully hosted seven sessions of international ceramic art exhibitions, with a total of 172 artists from 44 countries and regions creating more than 630 pieces of ceramics.
The event promotes Changchun's city image across the world and greatly boosts the development of the ceramics industry in the city.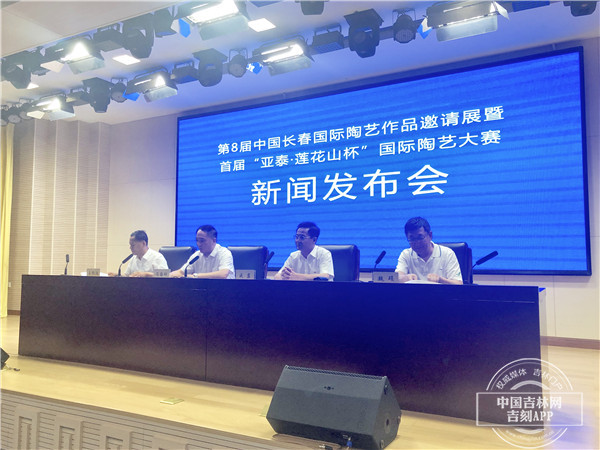 A press conference for the 8th China Changchun International Ceramic Art Invitational Exhibition & the 1st "Lotus Mountain Prize" International Ceramics Contest is held in Changchun, Northeast China's Jilin province, on July 16. [Photo/cnjiwang.com]