Jilin moving its economy ahead with digitalization
Local officials say initiative is key to increased development
Jilin is fast carving a new development path through digitalization, Bayin Chaolu, Party secretary of the province in Northeast China, said at the Jilin delegation's opening day during this year's two sessions, the National People's Congress and the Chinese People's Political Consultative Conference, in early March.
Bayin Chaolu said Jilin can be more competitive in the future by innovating and revitalizing the old industrial region. The province has achieved distinct success in intelligent manufacturing, digital government, smart agriculture and smart tourism while promoting "digital Jilin", he said.
During a special performance at the 2019 China Central Television Spring Festival Gala, FAW Group's top digital technologies and more than 100 of its popular models were used in the gigantic spectacular.
The integration of digital technology and auto elements reflects the new vitality of the old industrial area, Bayin Chaolu said.
According to Bayin Chaolu, the development of a "digital Jilin" has three prominent characteristics. Its main direction is digital government and intelligent manufacturing. Digital government is the combining of scientific and technological innovation with institutional innovation, which can make the business environment more efficient.
Intelligent manufacturing will require the integration of the solid industrial foundation of the province with digital technologies such as big data, cloud computing and artificial intelligence.
Jilin's digital industry is developing rapidly as the province is greatly supporting the innovation at FAW Group, a large automobile maker headquartered in Jilin's capital city Changchun, and promoting the construction of the Hongqi smart town.
In other areas, the unmanned subway produced by CRRC Changchun Railway Vehicles is operating in Beijing, and 12 Jilin-1 satellites in orbit provide remote sensing services to more than 10 countries.
Jilin has had many breakthroughs in key technology, and its advantageous scientific and technological resources are the solid foundation for promoting its digital development. Changchun University of Science and Technology has developed the technology to measure objects with an accuracy of 0.5 micrometers.
In addition, the province strategically cooperates with big-name companies like Huawei, Alibaba and JD, which has boosted its economy especially in rural and cross-border e-commerce.
Jilin is also active in developing its 5G network. Changchun has given road test license for the technology to FAW Group's Hongqi H7 and Besturn X80. China Mobile's Jilin branch has opened two venues for people to try 5G and one of them is at Jilin University.
In the past five years, the total output value and sales revenue of Jilin's electronic information manufacturing industry saw an average growth of 10 percent annually. The competitiveness of its products, such as high-power semiconductor lasers and optical-electricity encoders, is becoming stronger.
Automobile supporting capabilities have also been improved with related electronic products including vehicle navigation and advanced audio and infotainment systems.
Digital development can also be seen in governmental services. Many government agencies offer streamlined online services to increase efficiency for the public. About 60 percent of industrial and commercial affairs in the province can be dealt with online.
Jilin is using information technology to drive industrialization to promote technological development, local officials said.
To facilitate more intelligent networks, in August 2017, FAW Group launched the National Intelligent Network Automobile Application (North) Demonstration Zone in Changchun. The zone studies how smart networks can be used to make traffic and driving on the road safer with less congestion. It is also trialling related standards to promote the commercialization of results in innovation while providing testing for the vehicles.
The zone has built facilities for testing the interconnectivity between vehicles and testing infrastructure which uses 5G networks to pass vehicle information to smart transportation management systems.
FAW Group began to develop an intelligent network platform for passenger cars in 2017 and has launched several varieties of related automobiles, enabling users to control and diagnose vehicles at a long distance.
Digitalizing industry is an important way for Jilin to develop its economy, local officials said. The province will continue to focus on automobiles, the petrochemical industry, agricultural product processing and equipment manufacturing. It will also build a new foundation for manufacturing consisting of automation, remote sensing, upgraded industrial software and hardware and industrial internet.
Contact the writers at songmengxing@chinadaily.com.cn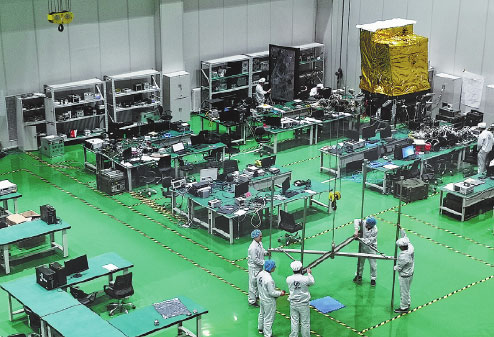 Workers assemble satellites at a plant of Changguang Satellite Technology in Jilin province. [Photo by Ding Luyang/China Daily]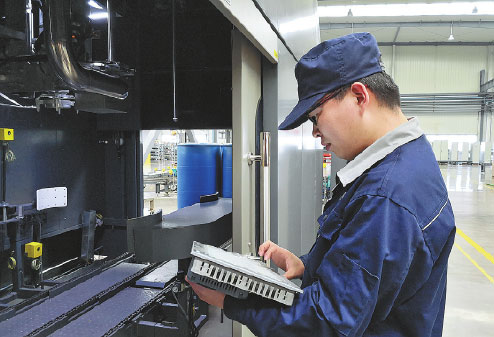 A manufacturing workshop at Changchun Northern Chemical Filling Equipment, an important scientific and technological company in Jilin [Photo by Ding Luyang/China Daily]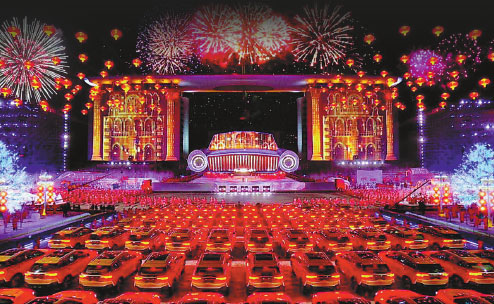 FAW Group shines during a spectacular performance at the 2019 China Central Television Spring Festival Gala. [Photo provided to China Daily]