Hunchun vigorously pursues all-round development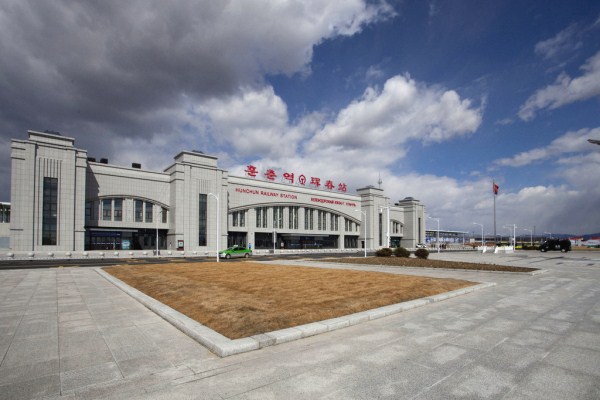 Hunchun Railway Station [Photo/IC]
The dynamic city of Hunchun, located in the east of Jilin province, is on the move – having expanded its opening-up to international markets by capitalizing on its distinctive regional character since the start of this year to secure all-round economic development.
Officials said Hunchun had launched a number of key events and initiatives in order to further drive its development going forwards.
A Sino-DPRK Tumen River tour was launched on Jan 1, underscoring that the construction of Tumen Delta international tourism cooperation zone had entered a stage of mutual cooperation between China and Democratic People's Republic of Korea and laying a solid foundation for multilateral participation and cooperation between China, the DPRK and Russia.
Officials said the Sino-Euro Cargo Railway Express, with its Changchun-Hunchun-Europe route, has completed testing and is expected to connect Jilin with European countries through Hunchun railway port.
Hunchun comprehensive bonded area went into operation, which officials said would facilitate the coordinated cooperation of its bonded area with the ports and domestic and overseas airports of neighboring countries.
Hunchun also signed a contract with Ningbo Zhoushan Port Company on construction of Hunchun international port – the project aiming to construct a major logistics distribution center for Northeast Asia.
The launch of a cross-border e-commerce comprehensive service platform and a verification platform had achieved, said officials, the creation of a national cross-border e-commerce platform in the shortest time.
Since last year, Hunchun has been actively taking part in the Belt and Road Initiative and in Jilin province's industrial development. It aims to build itself into a medium-sized city inhabited by 500,000 to 1 million people.
The city is intent on furthering its opening-up and upgrading, to connect more countries along Silk and Road. Last year, for example, Hunchun launched a shipping route from Russian Zarubino port to Ningbo, which shipped 200 Twenty Foot Equivalent Units, or TEU, of goods in the year.
A sea-rail transport route from Zarubino to Busan in South Korea can transport 573 TEU annually; while its Sino-Russian Hunchun-Mahalino rail route is expected to transport 3.05 million tons of cargo in the current year, for year-on-year growth of 19.5 percent.
Officials said the construction of inter-connective transport channels is enabling Hunchun to evolve from its traditional role as an inland city, into becoming a key international trading hub connecting Japan, Korea, Russia and Europe.
Hunchun is also opening its doors to the world by holding a number of international events including a Northeast Asia Tourism Forum, the Conference of Major Cities in the Japanese Sea Rim Region and the Tumen River free trade zone seminar.
Hunchun's foreign trade and commerce links it to more than 80 countries and regions in the world. Border economic cooperation zones achieved regional GDP last year of 3.36 billion yuan ($502.6 million), leading to year-on-year growth of 2.5 percent; while its export processing zone recorded total import and export volumes of $800 million, for year-on-year growth of 11.1 percent.
The city's border trade area attracted 130,000 to do business there, with imports surging to 610 million yuan, for year-on-year growth of 77 percent. Officials said Hunchun is becoming a pioneer in the integration of Northeast Asian countries, and is infusing the region with new energy while serving as a new growth pole for the province of Jilin's economy.
Business experts said that with the improvement of transportation infrastructure such as railways, highways, bridges, ports and air routes, Hunchun is in good shape to develop its economy. It has invested a total of 20 billion yuan to build an international textile industrial park; it carried out further processing of krill oil as well as increased its reserves of petroleum.
Officials said that leading international and domestic companies are moving to the city in search of new business opportunities. They added that more than 30 groups -- including HLA, Romon and Semir -- have signed off on new commercial initiatives involving Hunchun. Last year, the city played host to an estimated 230 foreign trading companies, 5,400 private firms and 24,000 individual business owners in Hunchun, which contributed more than 80 percent to the local economy.
More and more enterprises are going abroad, propelled by the opportunities springing from increased Northeast Asia regional commerce and the Belt and Road Initiative. Local officials said Hunchun rural commercial bank and leading local companies had had in-depth talks with Russian parties in order to chase business opportunities.
Officials added that Hunchun will use its distinctive regional advantages to fully push forward its opening-up and development. In the next stage of the process, the city aims to build itself up as a medium-sized border opening-up city. It plans to create two opening-up economic belts, three international ports, four cross-border economic cooperation zones, five transportation infrastructure projects and launch six transportation routes.
According to Gao Yulong, secretary of the municipal Party committee of Hunchun, the city will take a series of measures to advance its opening-up, reforms and innovation, industrial transformation, rural revitalization, urban construction and improve the standard of living of its people.
Gao said every effort would be made to increase the city's GDP growth rate to a level higher than the province's average GDP growth rate.
Gross industrial output value, local government revenue, fixed asset investments and total retail sales of social consumer goods are expected to achieve an annual growth rate of more than 7 percent, Gao said.
The party official said total imports and exports of foreign trade and port shipments would keep to a growth rate of more than 10 percent.
The number of visitors from home and abroad and total tourism revenue will achieve a growth rate of more than 10 percent, Gao added.