Jilin province, Cuba move to broaden relations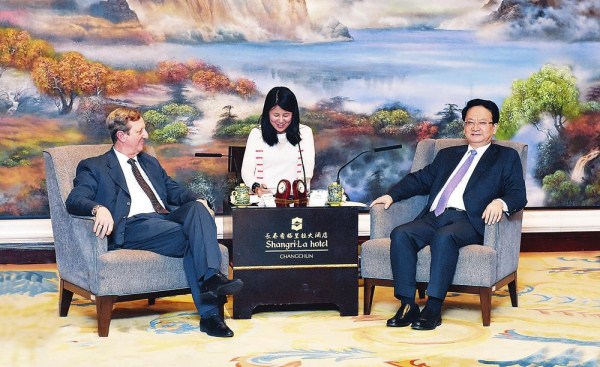 Jing Junhai (1st from right) meets Miguel Angel Ramirez, Cuba's ambassador to China in Changchun, on March 20, to discuss further cooperation. [Photo/Jilin Daily]
Jing Junhai, governor of Northeast China's Jilin province, held key discussions with Miguel Angel Ramirez, Cuba's ambassador to China in the provincial capital of Changchun on March 20, about broadening the already important cooperation between the two parties.
Both sides have established a strong relationship over recent years, and joint venture companies have achieved solid growth, according to Jing.
Jilin is currently broadening its opening up to the outside world and accelerating its industrial revitalization, and it is expected that Cuba and Jilin would strengthen their cooperation in areas such as trade, culture, the training of highly-skilled workers and technological innovation, the governor added.
The ambassador said that on the basis of anticipated solid cooperation, the two sides share a promising future, adding that he would promote Jilin province to Cuban companies and expected them to broaden ties in areas including education, healthcare and biomedicine.
Jing also invited the ambassador and the delegation from Cuba to attend the 12th China-Northeast Asia Expo, which will be held in Changchun in August this year.