Jilin pushes ahead with China-Russia-DPRK tourism zone project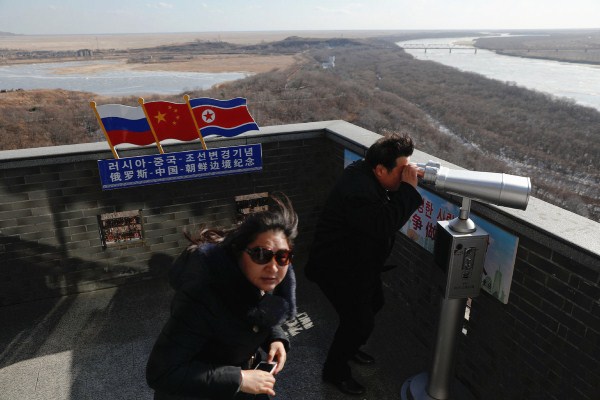 A tourist uses binoculars to look across to the Democratic People's Republic of Korea from a tower built on the Chinese side of the border between Russia, China and the DPRK near the town of Hunchun in China on Nov 24, 2017. [Photo/Agencies]
Northeastern China's Jilin province is pushing forward with a proposal to build a tourism cooperation zone between China, Russia and the Democratic People's Republic of Korea, where citizens of the three countries will be able to travel in designated areas without the need for visas.
In a pilot project, a group of tourists from Hunchun, Jilin, visited Rason in the DPRK on Jan 1.
The Hunchun city government said in a news release that the 109 travelers set out at 7:30 am, had their temporary travel documents issued by showing their ID cards to officers at the Chinese inspection station, and walked on the frozen Tumen River for about 10 minutes before reaching the DPRK inspection station.
They visited attractions including the DPRK-Russia friendship pavilion and a monument in memory of naval commander Yi Sun-sin in Rason. The three-hour sightseeing trip was led by a tour guide from Rason, and wrapped up around 1 pm, when the tourists returned to Hunchun, the city government said.
Zhang Jifeng, mayor of Hunchun, said the pioneering travel group marked a new period in the advancement of the tourism cooperation zone project.
"The project used to be promoted only by China, but now we've got support from the DPRK," he said. "The travel route will highlight the tourism themed cooperation among countries in Northeast Asia."
The tourism cooperation zone, located in the Tumen River delta, was initiated by the Jilin provincial government in 2015 and is projected to include areas in Hunchun, Russia's Primorsky Krai, and Rason, the city government said. The Tumen River, which flows through Northeast Asia, serves as part of the boundary for China, the DPRK and Russia.
The project envisions that citizens of China, Russia and the DPRK will be allowed to enter the cooperation zone with valid travel documents, and will also enjoy preferential duty-free shopping.