Exhibition of art by an autistic youth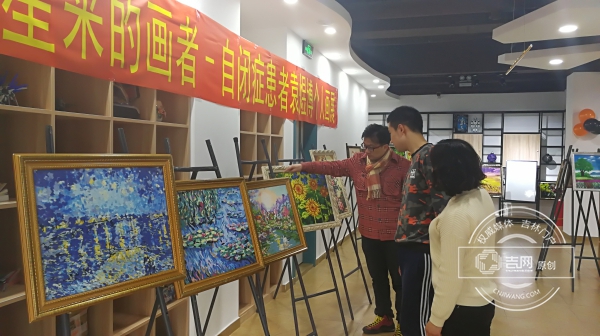 Visitors appreciate art works by Yuan Yubo, a 16-year-old autistic artist, at a bookstore in Changchun, capital of Jilin province. [Photo/cnjiwang.com]
A mini gallery which displays only 22 artworks created by a 16-year-old autistic youth recently opened in Changchun, capital of Jilin province.
All the paintings on show are by Yuan Yubo, who was born in 2001 and was diagnosed with severe autism when he was only two years old.
Yuan's mom Qu Mingying sent Yuan to a recovery institute to help him develop.
It was at that time that Zhai Shuxin became Yuan's teacher. Yuan was so sensitive that he could not attend group activities and was easily impacted by noises or a child's crying.
It took a lot of training to calm Yuan down and teach him to write. And then, in 2014, Zhai found Yuan was good at coloring various shapes. She began to train him with digital oil paintings.
A digital oil painting is a kind of drawing which is processed into lines and numbers through special methods so that painters can complete their artwork in accordance with the numbers.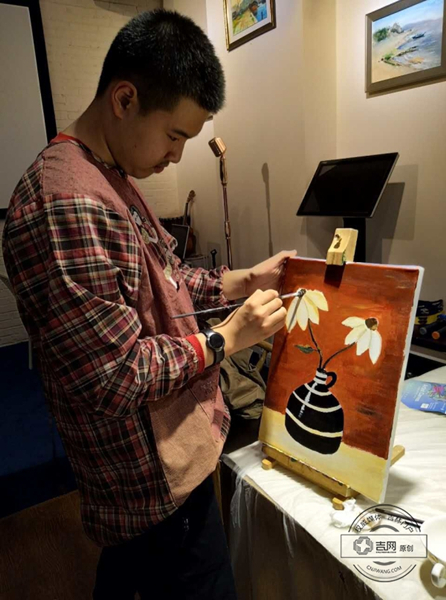 Yuan works on his painting quietly and cheerfully. [Photo/cnjiwang.com]
Zhai found that drawing training made Yuan calm down. In addition, he improved in drawing and writing and sometimes could even help with housework such as cleaning the floor and cutting vegetables.
Yuan next got to know a professional painter during a volunteer activity in 2016 and started to learn from her.
Song Liang, head of the institute where Yuan studies, said it is hard for children who have autism to support themselves through ordinary social work. However, painting may help Yuan start his own career.
The gallery is intended to promote Yuan's artwork to the public and is an opportunity for Yuan to find a painting teacher who can turn him from an imitator into a creator of unique art.
It also aims to raise people's awareness of autistic children. Although autism is hard to overcome and children with it find education difficult to accept, there is still hope.