Dialogue between Jilin and US media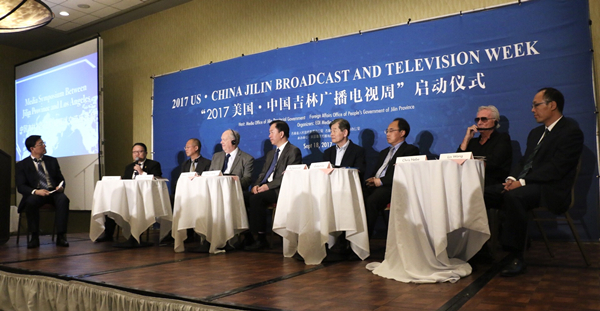 The 2017 US China Broadcast and Television Week activity opens on Sept 18. [Photo provided to chinadaily.com.cn]
Several exchange activities between the Jilin government and American media were held in Los Angeles and San Francisco from Sept 18 to 21.
A significant part of the "2017 US China Broadcast and Television Week" activity, the media exchange meetings focused on how to increase film cooperation, make full use of new media and tell Chinese stories more effectively.
Tong Dejun, president of Jilin Internet Media, stressed that the Internet plays an important role in connecting the world.
Liu Guojun, director of the Product Development Department of the Changchun Media Group, said more exchange activities will allow media in different countries to know each other better, and help people better learn the real stories in other countries.
Sound effects editor Richard Anderson, who won a Special Achievement Academy Award for Raiders of the Lost Ark, stated that films help people know life in other countries.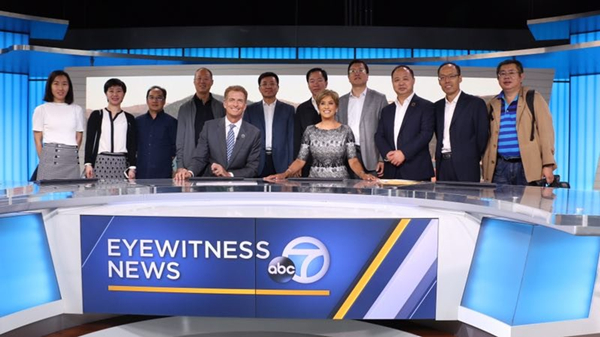 Jilin delegates visited the newsroom of ABC, where they shared their views on news and broadcasting. [Photo provided to chinadaily.com.cn]
Many American people used to believe that Chinese people love action movies, so their daily lives must be like that.
With the help of films, Americans have come to realize that except for some living habits like using chopsticks instead of knives and forks, the lives of Chinese people are similar to those of Americans.
The Jilin delegates also visited KABC7 and Illumination Entertainment, the producer of the popular cartoon movie Despicable Me. They also visited the ABC newsroom where they shared their views on news and broadcasting.