Province striving to maintain, improve healthy environment
Government hopes to benefit local lives with nature reserves, energy efficiency and planting projects
Jilin province in Northeast China has been making great strides in environmental restoration and conservation in recent years.
Jilin Party chief Bayin Chaolu said the concept of green development should be firmly established to serve as the foundation of the province's future survival and development.
Local officials said the good local environment is Jilin's biggest advantage, most precious treasure and most important resource compared with other provinces in the country.
In the past five years, the provincial government has focused on three major sections: forests in eastern Jilin, lakes and rivers in the western part and land-protecting forest walls in between.
Now Jilin has 8.22 million hectares of forests, accounting for nearly 44 percent of the province's total area.
In the past three years, it has reclaimed 323,000 hectares of forest. The province's forests have been free of major fire accidents for 36 years.
Local authorities have established 42 forest reserves in recent years, with their combined area totaling 2.61 million hectares, accounting for some 14 percent of the province's total area.
The reserves, especially those in Hunchun, Wangqing and Huangnihe, are working as a corridor for wild Siberian tigers and Amur leopards to roam from one habitat to another.
The effects are remarkable. Monitoring showed that in 2013 there were at most 13 Siberian tigers and 15 Amur leopards in the Changbai Mountains. Now the figures are 28 and 42, respectively, with cubs monitored.
Local officials said Hunchun and Wangqing have become the most important habitats in the country, and it seems the rare felines are gradually expanding their kingdom.
The authorities are planning to further consolidate the results. At the province's two sessions earlier this year, local officials announced that it would initiate a pilot national park for Siberian tigers and Amur leopards.
The initiative has won approval from China's central government and the national park plans to cover an area of 14,600 square kilometers, of which 10,400 sq km will be located in Jilin province.
Officials said the park will serve as an example of cross-provincial cooperation in animal protection and also a window into China's efforts to promote ecological development.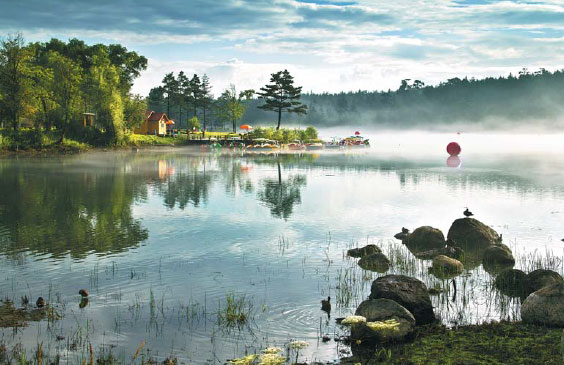 A morning view of Meirensong Lake in the Changbai Mountain Protection and Development Zone in Jilin province. [Liu Yanjun/For China Daily]
In western Jilin, water conservation efforts are also paying off.
In 2013, a project to link rivers and lakes started, with the aim of instilling 136 million cubic meters of water to build a large expanse of wetlands connecting the Xianghai and Momoge nature reserves, Chagan Lake and Boluo Lake.
That was the first major project to restore water resources in the province.
Party chief Bayin Chaolu called for an acceleration of efforts, saying the project is important to improve the environment in western Jilin and gradually promote grain production in the region.
After four years of hard work, the area of restored and improved lakes and wetlands now total about 1,300 sq km, attracting a large number of migratory birds each year.
The climate in western Jilin has improved remarkably, with frequent droughts seen in previous years having disappeared.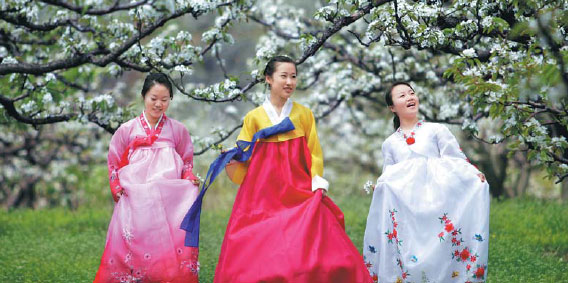 Ladies enjoy the view of pear blossoms in the Yanbian Korean autonomous prefecture. [Photo provided to China Daily]
The project has also alleviated water shortages in the region, guaranteeing water supplies for industrial and household use.
Local officials said when the project is finished in 2020, the total area of lakes and wetlands will equal 4,939 sq km, and the ecological, economic and social benefits will be even more remarkable.
The Jilin government is in the middle of its second 10-year plan to increase the green coverage of the province in the hopes of building a reasonably structured and well-functioning bulwark by the end of the decade.
Some goals in the plan are to increase foliage in 14,800 villages, with 13,320 of them having greenery accounting for 30 percent of the total area.
Local authorities are establishing a database of the province's environmental conservation projects, with 650 projects to receive investment worth 76.9 billion yuan ($11.31 billion).
lifusheng@chinadaily.com.cn