Samaritan devotes herself to charity
For more than 10 years, Li Dongmei -- president of the Love and Charity Association of Weihai Village, Zhenlai county, Jilin province -- has been dedicating herself to charity.
Li just earned the honorary title of "Good Samaritan in Jilin -- Role Model from the Most Beautiful Family" at the end of April.
Li is a warm-hearted person who is always ready to offer a helping hand to anyone in need.
According to Li, a left-behind boy whose mother went missing left a deep impression on her. The boy was scalded by boiling water at an early age, and his poverty-stricken family couldn't afford subsequent treatment. The scald wouldn't heal and bled from time to time as he grew up, leaving him lame in one leg.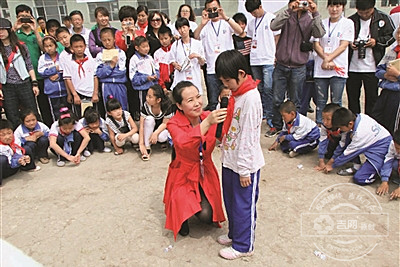 Li Dongmei and other volunteers visit a village school. [Photo/chinajilin.com.cn]
When she heard of this, Li and other volunteers raised funds to buy new clothes and shoes for the boy and helped contact a county-level hospital that could do operations on the boy.
After the treatment, "The boy made a remarkable recovery and was discharged from hospital, the smile on his face made me feel that all my efforts were worthwhile," Li said. Besides caring about the living conditions of disadvantaged groups and providing material support to them, Li pays much attention to their psychological needs.
Zhang Yong, a man in Zhenlai county, has not been able to go outside his house for more than two decades because of his disability.
Li and other volunteers visited Zhang's house and helped Zhang Yong "step" out of his house, enjoying the local delicacies and appreciating the beautiful sceneries in his hometown.
Li herself has raised more than 30,000 yuan ($4,349.60) and collected 1,000 items of clothing, and organized over 60 relief campaigns since she took up charitable causes more than 10 years ago.
The number of volunteers in Zhenlai county has increased from dozens to hundreds and on July 11, 2016, the Love and Charity Association in Weihai Village was formed.
Every time Li visits people in need, she brings a notebook to write down their information and a tape measure to see what donated clothes or shoes would fit them, according to a fellow volunteer.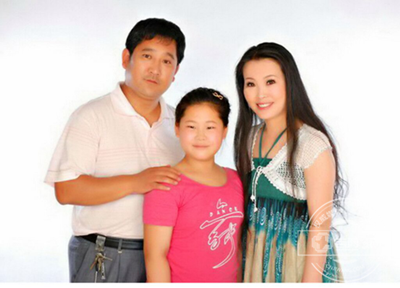 Li and her family pose for a photo. [Photo/chinajilin.com.cn]
Li's boons to the community have spread far beyond her hometown to remote rural areas in other provinces including Guizhou and Sichuan. Her efforts are widely recognized and she was honored with many titles including "Outstanding Female Volunteer" in 2012, "The Most Beautiful Family Actively Involved in Charity and Helping others" in 2015, "National Role Model Family for Five Virtues" and "Outstanding Volunteer in Jilin" in 2016.
"Li Dongmei has lived a frugal life for more than a decade to help those in need," Yao Dongsheng, vice president of the association, said.
Li said that her family members' support is a great motivation for her charitable causes.
Despite the family's humble monthly income, Li's husband supports Li's passion for charity work wholeheartedly. Under Li's guidance, her daughter has also learned to be thrifty. The shoes her daughter wears are all priced at about 50 yuan.