Jilin to hold Blind Chess Challenge
Jiang Chuan, the man with a "super brain" among Chinese chess masters, will compete with 26 opponents and challenge the Guinness World Records in June at Longwanqun National Park in Jilin province.
Jiang is the world record holder for winning at blind Chinese chess and is the sixth international chess champion after he won the 12th World Xiangqi Championship.
During the challenge, Jiang will cover his eyes and compete against his opponents only by listening to where the pieces are placed, relying on his memory to track the movements.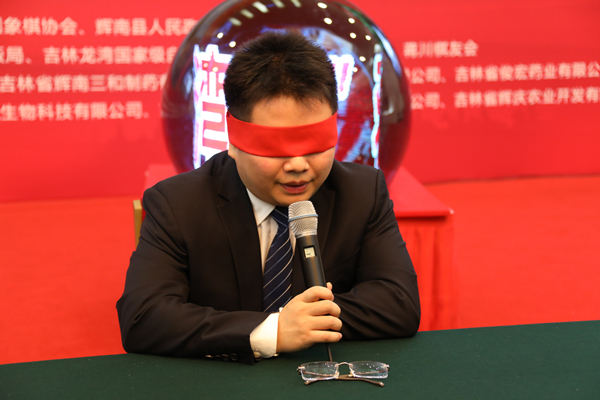 Jiang Chuan, a Chinese chess master, explains the rules of blind Chinese chess during the opening ceremony for the Guinness World Records Challenge on March 26. [Photo provided to chinadaily.com.cn]
Jiang will need to win 18 among the 26 to break the record and it is predicted that the entire competition will take more than 10 hours.
"The long completion time is a challenge of physical agility, endurance, and memory. I will have to remember all the steps and details. Fortunately, the national park offers beautiful scenery and fresh air, which could make competitors and I feel relaxed," Jiang said after the launch ceremony of the Guinness World Records Challenge held in Beijing on March 26.
Other activities including a cultural promotion and a summit about Chinese chess will also be held during the challenge.
The competition is sponsored by the Chinese Xiangqi Association, the Government of Huinan Town, the Chinese Xiangqi Association of Jilin Province, the Beijing Information Website, the Department of Culture, Radio, Film, TV, Press and Publication in Huinan Town, and the Administrative Committee of Longwanqun National Forest Park.