Jilin barber challenges 3D art
Wang Xiaojiu, a hair stylist in Jilin province, created a 3D picture -- a python -- on the floor of his shop with hair. The python looks like it is breaking through the ground and popping its head out of the tiles.
Wang said "the python picture was created on the evening of Feb 20, which took me nearly two hours to finish."
Wang became a barber when he was 15 years old and was well-liked by his clients.
"I love my job as a barber," Wang said.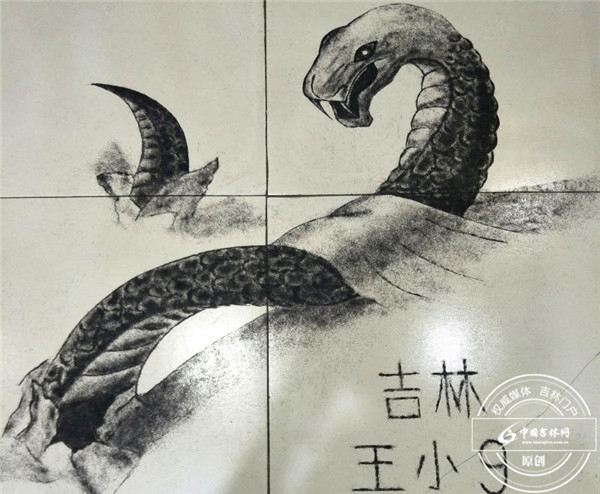 The 3D python created by Wang Xiaojiu, a hair stylist. [Photo/chinajilin.com.cn]
In 2016, an inspirational flash appeared in his mind -- to make art pieces with hair. Since then, he has been devoted to this artistic action.
He explained, "I have made more than 100 art pieces with hair since last July."
He used to draw movie actors, cartoon characters, and famous scenic spots in China but all are simple 2D images. The python is a breakthrough for him to explore the 3D art world.
People may have different creative ways to convey their love of life and passion for work. These creations may not bring about big life changes but it makes Wang's life (and the lives of his Weibo followers) more interesting and enjoyable.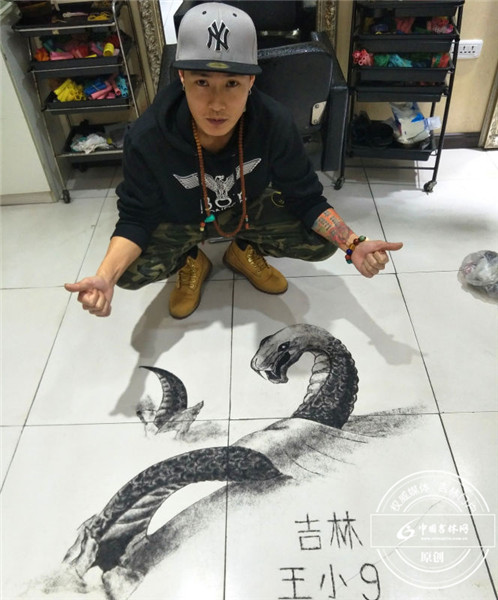 Wang and his newly created 3D art piece. [Photo/chinajilin.com.cn]