Traffic police's Valentine
As more and more traffic fills the roads, the need for traffic police to keep order is ever increasing. They are on duty every day on the roads, protecting the city.
For those traffic police couples, it is difficult to find spare time to be with their families, but they can still guard their love and families while guarding the streets.
There are 24 traffic police couples at the Traffic Police Detachment of Changchun City Public Security Bureau, and are proud to be traffic police regardless of the busy work.
Holding off traffic and wedding ceremonies
Shi Bowen and Li Wenjuan are a couple both working for a traffic police group in Changchun, Jilin province. They knew each other since college and fell in love in 2004.
They were set to get married in May 2011, but the wedding was pushed back to August due to a "150 Day Traffic Renovation Plan" of the city.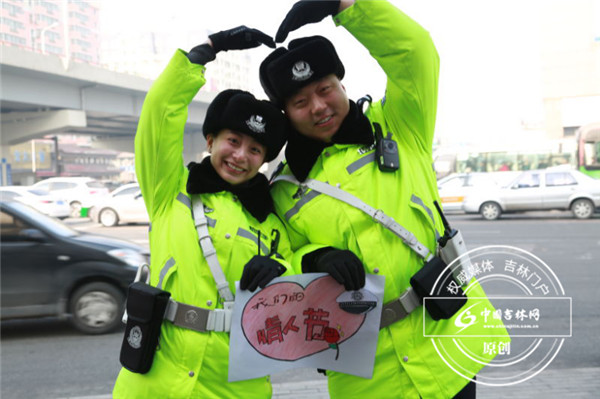 Shi Bowen (Right) and Li Wenjuan (Left) raise their arms to make a heart shape when they are on duty in the streets on Valentine's Day. [Photo/chinajilin.com.cn]
However, the wedding has had to be delayed again because of Changchun's Agriculture Exhibition.
"Shi and I agreed to delay our wedding for the second time because our work was too busy, and we support each other's work," Li said.
After the exhibition, an activity to build a better Changchun again affected their wedding plan.
Experiencing all these ups and downs, Shi and Li finally entered the marriage hall on Sep 25, 2011 and their life has continued to be filled with love, support and their mutual commitment to traffic work.
Life after marriage has been common and warm for Shi and Li.
Shi said, "We would tell each other about our own work in the whole day - number of traffic accidents and illegal behaviors, things we've seen."
"Shi and I go to work and return home together. We care about each other all the time, which makes me feel happy," Li said.