China to set up national park for Siberian tigers and leopards
The Chinese government confirmed the establishment of a national park for Siberian tigers and leopards, a senior official said during a meeting of the 12th China's National People's Congress Standing Committee.
Xu Shaoshi, director of the National Development and Reform Commission, said the proposed park for Siberian tigers and leopards have been approved as part of the pilot program for a national park system at the Nov 4 meeting.
"The Siberian tigers and leopards national park in Northeast China is mainly located in Yanbian Korean Autonomous Prefecture of Jilin province," Xu said.
The national park is one of the pilot programs and will encompass all the confirmed habitats in both Jilin and Heilongjiang provinces, including Wangqing and Hunchun and will connect with the Dongning natural reserve in Heilongjiang province.
Previously, a Beijing Normal University research team proposed a conservation zone that incorporated the Hunchun Forest Bureau into the Wangqing and Laoyeling reserves, and adds to the 4,000-square-kilometer Russian protected areas, making a total reserve area of 10,000 square kilometers.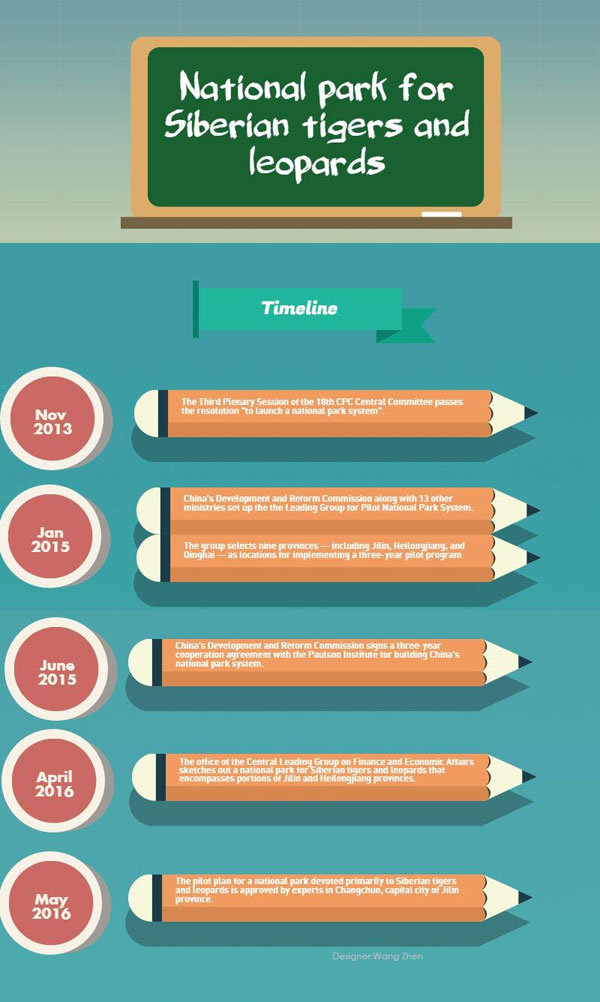 Chang Youde, a WWF cat expert, said the proposed national park would be 10,200 square kilometers, incorporating Hunchun into another two national reserves.
The BNU team published a significant finding that they photographed 27 Siberian tigers and 42 leopards using infrared cameras between 2012 to 2014 in Hunchun and its surrounding areas.
"The Hunchun reserve is enough space for up to eight or ten Siberian tigers to share; but now the area happens to have more than 20. It's overcrowded," Feng said.
The head of National Development and Reform Commission also said at the meeting that a relocation project will also be carried out.
"To restore the ecology of the area, forest factories and farms must all be relocated, as do a great number of local people," Xu said.
"To implement the policy will take a bit longer time," but will be done "in an orderly way," added Xu. They must be careful "as local people's livelihoods will likely be influenced."
Policy makers expect to turn 30,000 loggers, hunters, and forest farmers into rangers and staff for the future national park.
Xiao Wanjun, deputy director of Jilin Provincial Forestry Bureau's conservation department, told Xinhua News Agency in August that the government will relocate residents and factories away from the protected areas once the boundaries of the park are established, as a way to reduce interactions between these big cats and residents.
"The conservation of Siberian tigers and leopards cannot be at the expense of people's livelihoods," said Feng Limin from Beijing Normal University.
Ecological degradation and fragmented habitats pose serious threats for conservation in China, remarked Zhang Xiwu, director of the Wildlife Conservation and Nature Reserve Management Department of the State Forestry Administration, during his appearance at the Eco Global Annual Conference 2016 in Guiyang, China's Southwest Guizhou province, in July.
He said it is necessary to integrate inhabits of wild animals together under the overarching umbrella of national parks in order to restore ecological systems in China. The Chinese government outlined its plan to introduce a national park system in the 13th Five-Year Plan (2016-2020), as an attempt to protect the country's natural landscapes.
The National Development and Reform Commission, a major policy maker and managing body of the national park system, issued a three-year initiative on China's national park system reform in 2015, and is launching pilot programs in Jilin, Heilongjiang, and seven other provinces nationwide.