Protecting the wildlife in the forests of NE China
In the forests of the Wangqing National Nature Reserve, in Jilin province, one of China's most important breeding grounds for two rare species of wild animals, rangers are constantly on the move doing everything they can to make sure the denizens live in a safe and comfortable environment.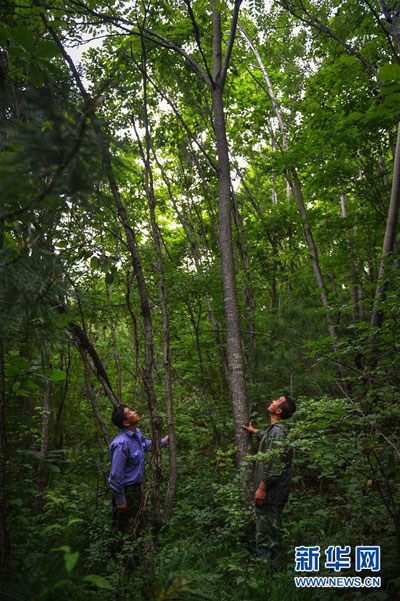 Wu Guoqing (L) and Yan Zhiqiang, rangers in the Wangqing National Nature Reserve, Jilin province, checking a tree while on patrol, on July 12. [Photo by Xu Chang/Xinhua]
Two of these public servants are Wu Guoqing and Yan Zhiqiang, who patrol the forests each day, along with many other rangers. In commenting on his work, Wu says, "We need to keep an eye on illegal hunting and logging activities or digging wild ginseng, all of which pose a danger to wild animals, and we also monitor forest fire outbreaks and other emergencies".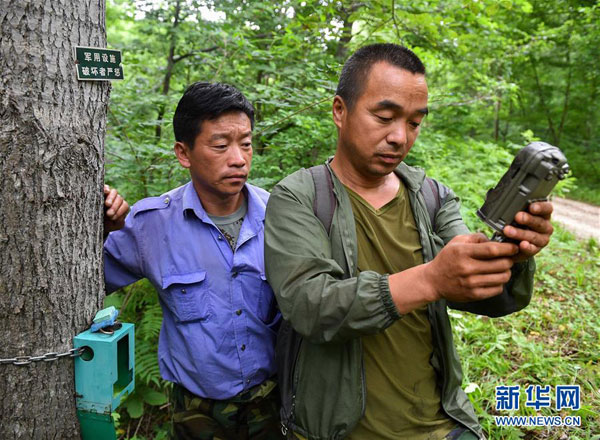 Yan Zhiqiang(R) and Wu Guoqing on a routine check of infrared-camera photos at a monitoring spot to collect data on Siberian tigers and leopards to better protect the endangered species as part of a forestry dept program. [Photo by Xu Chang/Xinhua]
In recent years, the provincial forestry dept and big-cat experts have worked together to check on the number of Siberian tigers and leopards in the reserve, which means Wu Yan join the other rangers in helping collect data. More recently, these wildlife public servants have gotten another job -- helping collect the film from the various infrared cameras installed around the reserve.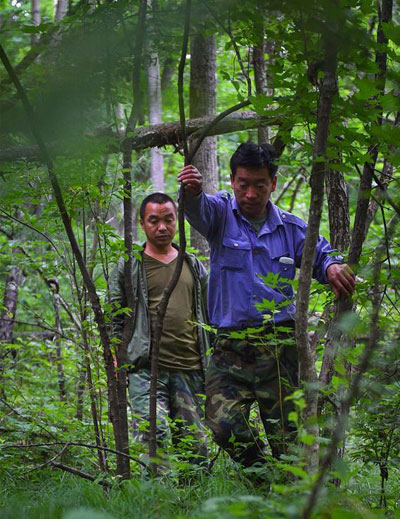 Wu and Yan walking through the dense forest in the Wangqing National Nature Reserve, Jilin province. [Photo by Xu Chang/Xinhua]