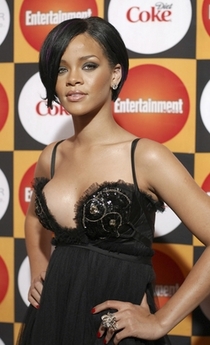 In this June 21, 2007 file photo, Rihanna arrives at Entertainment Weekly's annual Must List party in New York. [Agencies]
H&M and Designers Against AIDS are linking up with a gang of creative types, including Rihanna, Timbaland and Jade Jagger, to create a cotton collection for guys and girls.
The collection, designed by designers, musicians and artists, begins retailing in H&M stores globally in February 2008. The artists  which also included Chicks on Speed, Good Charlotte, Henrik Vibskov, Katharine Hamnett, My Chemical Romance, Rufus Wainwright, Scissor Sisters, The Cardigans, Tiga, and Ziggy Marley - donated their services for free.
Plans are for 25 percent of the proceeds from the collection to go to HIV/AIDS prevention projects around the world. Another key goal in creating the collection  to be named Fashion Against AIDS  is to raise awareness about HIV/AIDS among young people. Twelve million people in the 15 to 24 age group are now infected with the virus.
"Supporting YouthAIDS through the Fashion Against AIDS campaign was a great way to encourage my fans to join me in the fight against HIV/AIDS. I love that H&M is providing a fashionable and easy way for young people all over the world to get involved in this worthy cause," Rihanna said in a release.
Designers Against AIDS (DAA), a non-profit organization that seeks to mold public opinion through joint ventures between fashion designers, musicians and other artists, initiated the venture.
"Fifty percent of the people newly infected with HIV are between the ages of 15 and 24. There is an urgent need to reach this target group. By combining fashion with music we hope to get these young people to 'Stop and Think,' as stated by designer Katharine Hamnett on one of the garments in the collection," said Ninette Murk, founder of DAA.
"Every fifteen seconds someone in the 15-24 age group contracts HIV/AIDS. Shopping has never been more important. Every garment sold makes a difference", added Kate Roberts, the founder of YouthAIDS.
The collection features T-shirts, tank tops and hooded sweaters. All the garments feature an original print, and the neckline label carries the name of the designer.
Some of the prints are subtle and "whisper" the message such as Good Charlotte's design, which includes a young couple under a red umbrella. Other prints raise their voices, including Katharine Hamnett's "Use a Condom!" and "Stop and Think" messaging in big, black, block lettering.
The message behind the campaign is summed up by Henrik Vibskov's print design, which states, "Be aware  it is still happening."
Prices vary from to $12.90 to $34.90. All garments are made from 100 percent certified organic cotton and carry a special hang tag that reads: "This might be the most important piece of clothing you've ever had your hands on."