China attaches great importance to the coming visit by Japanese Prime Minister Yasuo Fukuda, Foreign Ministry spokesman Qin Gang said Tuesday.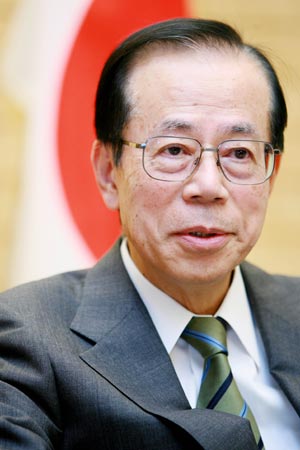 Japanese Prime Minister Yasuo Fukuda is in an interview with Xinhua and other Chinese media at the prime minister's office in Tokyo on Tuesday December 25, 2007 before his upcoming visit to China.  [Xinhua]
One day before Fukuda's tour begins, Qin said China views the visit as another key step in pushing forward Sino-Japanese ties after the ice-breaking and thawing trips by former Japanese Prime Minister Shinzo Abe and Premier Wen Jiabao, respectively.
Qin urged Japan to cautiously deal with the Taiwan question, always bearing in mind the overall bilateral relationship.
Qin said China had noted repeated remarks by Japanese officials citing their adherence to the one-China policy and clear opposition to "Taiwan independence" and Taiwan authorities' proposed referendum on UN membership.
He also addressed the dispute over gas fields in the East China Sea between the two countries, saying China will continue negotiations with Japan in an active and pragmatic manner.
He said China would work together with Japan to seek a solution acceptable to both sides by "putting aside the disputes for joint development".
On Friday Fukuda is scheduled to meet separately with President Hu Jintao, top legislator Wu Bangguo and Premiere Wen Jiabao.
Later in the day he will deliver a speech at Peking University.
Tours of a development zone in Tianjin and the temple and cemetery of Confucius in Qufu in East China's Shandong Province are also planned for the visiting prime minister on the weekend.
Fukuda is expected to also present a plan to help Beijing ramp up environmental protection. Japanese officials are still working on details of the joint $1.8 billion fund and Fukuda is expected to outline a proposal during his first China visit since he became PM.