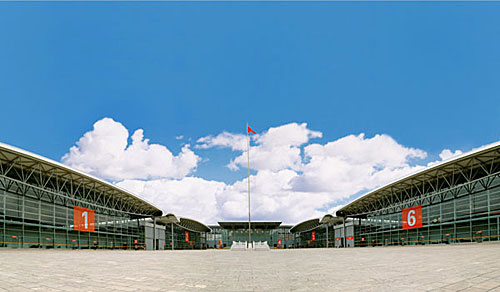 China International Travel Mart 2009
Organizers: China National Tourism Administration
            Yunnan Provincial People's Government
            Civil Aviation Administration of China
Time: November 19 (Thursday) to November 22 (Sunday), 2009
Venue: Kunming International Convention & Exhibition Center
Scale: Area: 50, 000 sq m
Exhibitor's Profile
Tourism administration/association, travel wholesaler, travel agency, tourist attraction, airline, railway, cruise company, car-rental company, hotel/hotel management group, holiday resort, convention/exhibition center, computerized reservation system, consulting organ for market development, media, and other related travel organs.
As an exhibitor, you may expect:
1. Numerous top-quality buyers worldwide;
2. Two trade days kept exclusively for registered delegates and two days open to the public.
3. Press conferences and symposiums for exhibitors to further promote their products and obtain insights in the international tourism market;
4. Thousands of people will visit your exhibition booth;
5. Well-arranged social activities for exhibitors to establish close ties with buyers.
Schedule
Nov. 16, 2009(Monday) Registration/booth construction
Nov. 17, 2009 (Tuesday) Registration/booth construction
Nov. 18, 2009 (Wednesday) Registration/booth construction
Nov. 19, 2009 (Thursday) Business talks/Open to trade visitors
Nov. 20, 2009 (Friday) Business talks/Open to trade visitors
Nov. 21, 2009 (Saturday) Open to the public
Nov. 22, 2009 (Sunday) Open to the public / 17:00
Nov. 23, 2009 (Monday) Withdrawal of exhibitors