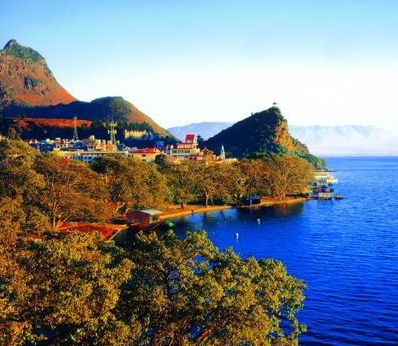 Yuxi, which means jade stream in Chinese, is well known for the Yuxi tobacco factory, the largest in Asia and the third largest in the world. Yuxi is also the hometown of Nie Er, a musician who composed the National Anthem.
Yuxi County is situated in the center of Yunnan Province, only 98 km from Kunming, the capital of the province. The county covers an area of 15,OOO sq.km., with a population of 2.3 million. This number includes several ethnic minority groups such as the Yi, Hani, Dai, Hui, Mongolian, Bai, Miao and Lahu peoples, who together make up one third of the population.
The area has a long history rich in civilization and culture. The Seiqiu Ruins in Jiangchuan and the Longshutian Ruins in YuanJiang demonstrate that the area was already home to the ancestors of the various ethnic groups some 3OOO years ago.
At Lijiashan in Jiangchang, archaeologists have discovered about 1,OOO relics produced during the Spring and Autumn Periods of the Han Dynasty. Among these is a small and extremely rare bronze table, embellished with oxen and tiger patterns. These objects are integral parts of the cultural legacy of Yunnan. The great Aliao Mountaina is a huge museum devoted to the preservation of the cultural heritage of the different ethnic groups. Each group has their own unique history, culture, language, clothing, festivals and customs.
Yuxis lakes are unforgettable. They include Fuxian Lake, the second deepest fresh water lake in China, as well as Xingyun Lake, Qilu Lake, Yangzhong Lake.
Yuxi is the home of Hua Deng Opera, which features a humorous local dialect which makes many operagoers laugh to the point of tears.