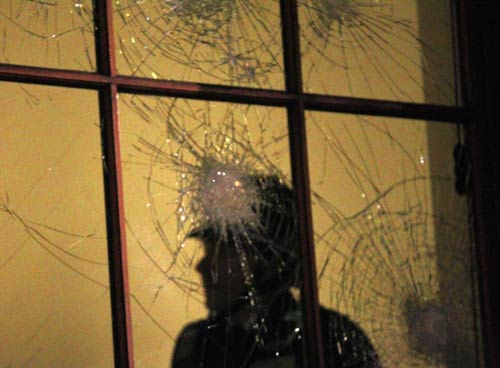 A police officer stands inside the Treasury building during a protest in Westminster, central London December 9, 2010. [Photo/Agencies]
LONDON - A car carrying Prince Charles, heir to the British throne, and his wife Camilla was on Thursday attacked by protesters in London demonstrating against higher student fees, a spokesman for the prince said.
"We can confirm that Their Royal Highnesses' car was attacked by protesters on the way to their engagement at the London Palladium this evening, but Their Royal Highnesses are unharmed," the spokesman said. He did not elaborate.
The car carrying the royals later arrived at the venue where they were to watch a variety performance.
Television footage showed the Bentley limousine splattered with white paint with damage to one of its rear passenger-side windows.
Police chief superintendent Julia Pendry who is in charge of policing the protest that turned violent said the car was attacked around Oxford Circus, a busy shopping district in the heart of London.
"I can't tell you the specifics...and whether the (protesters) were actually trying to have contact with the prince we're not sure of," she told reporters.
"But what did happen was that some people made suggestions to him and were kicking his vehicle," she said.