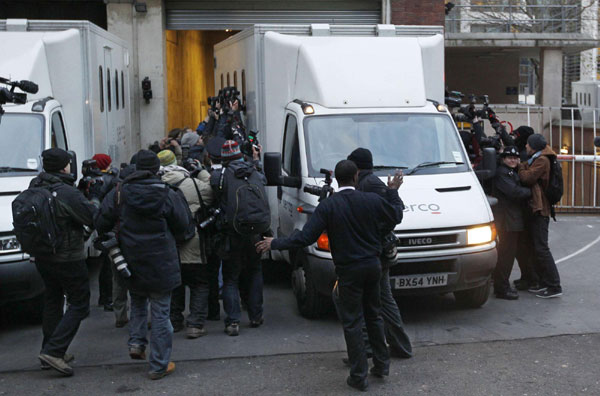 Photographers hold cameras to the windows of a prison van believed to be carrying WikiLeaks founder Julian Assange as it leaves Westminster Magistrates court, in central London Dec 7, 2010. Assange was refused bail by a British court on Tuesday after he was arrested over allegations of sex crimes in Sweden. [Photo/Agencies]
LONDON - WikiLeaks founder Julian Assange was arrested and remanded in custody by a British court on Tuesday over allegations of sex crimes in Sweden.
Assange, whose WikiLeaks website is at the centre of a furious row over the release of secret US diplomatic cables, was arrested under a European Arrest Warrant on Tuesday after handing himself in to London police.
Assange, who denies the allegations, will remain behind bars until a fresh hearing on December 14.
He has spent some time in Sweden and was accused this year of sexual misconduct by two female Swedish WikiLeaks volunteers. A Swedish prosecutor wants to question him about the accusation.
WikiLeaks, which has provoked fury in Washington with its publications, vowed it would continue making public details of the 250,000 secret US documents it had obtained.
US Defense Secretary Robert Gates welcomed news of the arrest. "I hadn't heard that but it sounds like good news to me," Gates told reporters during a trip to Afghanistan.
At a court hearing in London, Senior District Judge Howard Riddle said: "There are substantial grounds to believe he could abscond if granted bail".
He said the allegations were serious, and that Assange had comparatively weak community ties in Britain.
Assange, dressed in a navy suit and wearing an open-neck white shirt, initially gave his address as PO Box in Australia. Pressed for a more precise address, he said Victoria, Australia.
Australian journalist John Pilger, British film director Ken Loach and Jemima Khan, former wife of Pakistani cricketer and politician Imran Khan, all offered to put up sureties to persuade the court Assange would not abscond.
Pilger, who offered 20,000 pounds ($31,600), told the court: "I have a very high regard for him. These charges against him in Sweden are absurd and were judged absurd by a senior Swedish prosecutor.
"It would be a travesty for Mr Assange to go within that kind of Swedish system."
ALLEGATIONS
The US government and others across the world have argued the publication of cables is irresponsible and could put their national security at risk.
The WikiLeaks website was shut down after apparent political pressure on service providers, but WikiLeaks said there were now 750 global mirror sites meaning the data so far released remained publicly available.
"Today's actions against our editor-in-chief Julian Assange won't affect our operations: we will release more cables tonight as normal," WikiLeaks said, according to its Twitter page.
London police said Assange was arrested by officers from its extradition unit at about 9.30 am (0930 GMT) after he appeared by appointment at a police station. His whereabouts had been previously undisclosed.
Lawyer Gemma Lindfield, representing the Swedish judicial authorities, said the extradition case contained allegations of four sexual assaults by Assange against two women in Stockholm in August 2010. One charge against Miss A is that Assange "sexually molested her" by ignoring her request for him to use a condom when having sex with her.
Another charge relates to "Miss W", who alleged Assange had sex with her without a condom while she was sleeping on August 7.
Swedish prosecutors opened, then dropped, then re-opened an investigation into the allegations. The crime he is suspected of is the least severe of three categories of rape, carrying a maximum of four years in jail.
Assange's Swedish lawyer has said his client would fight any extradition and believed foreign powers were influencing Sweden.
The group said it would be operating as normal using people in London and other locations, and argued the pressure it faced was becoming a fundamental question of civil liberties.
Swiss postfinance, the banking arm of state-owned Swiss Post, has closed an account used for WikiLeaks donations and online payment service PayPal has also suspended WikiLeaks' account. Visa Europe said on Tuesday it had suspended payments to the WikiLeaks website.