KUNMING - Officials looking into the illegal sale of Apple gadgets say they are waiting for the electronics company to respond before they decide whether to close three more possibly unlicensed stores.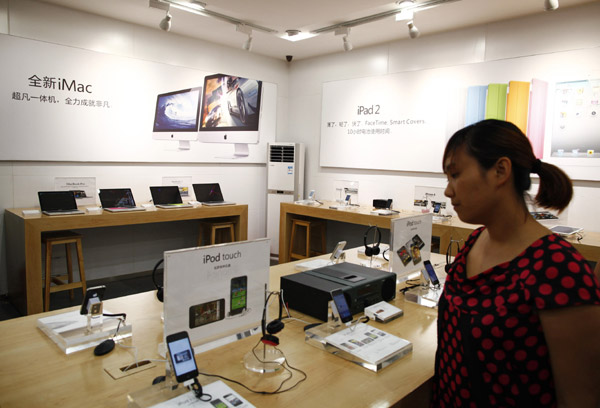 A customer looks at products in a fake Apple store in Kunming, capital of Yunnan province, on July 22. The store was made famous by a blog posting that said even a store worker there did not realize it was a fake outlet. [Agencies]
Two of the five shops found selling iPhones and iPads in Kunming, capital of Southwest China's Yunnan province, have already been closed by the local industry and commerce administration.
However, investigators say they need more details on Apple Inc's distribution patterns before they can determine whether the other three are illegal.
Authorities have written to the headquarters of Apple's China company and are waiting for answers to two questions, according to Liu, an official at the administration who did not give his full name.
Liu said the administration has asked Apple whether only authorized stores can sell its products and whether mimicking the design of its trademark minimalist shops is an infringement of intellectual property rights.
Liu said his office will act accordingly after receiving a response.
The fake Apple stores attracted worldwide media attention after they were exposed online by a blogger from the United States.
Shortly afterward, authorities launched a probe into the illegal sale of Apple products.
The investigation, after looking into about 300 shops in the city, found five unauthorized Apple stores, according to a report seen on the Kunming city government's website.
Two of the five stores without business licenses have been closed, while three are still operating.
Amy Bessette, a spokeswoman for Apple based in California, declined to comment on the fake stores when she was interviewed by China Daily.
Instead, she suggested consumers turn to a page on Apple's Chinese website, which lists authorized resellers.
A saleswoman at one of the three unauthorized Apple stores, who declined to reveal her name, said the shop owner is applying for authorization from the California-based IT giant and hopes to become licensed in the near future.
The shop has even seen an increase in business because of the wide media coverage it has received, she said.
However, Liu Yinliang, a legal expert at Peking University, said it was illegal for a reseller to use Apple's brand and logo without the company's approval under the Law Against Competition by Inappropriate Means.
China has four authorized Apple stores in Beijing and Shanghai, although the US electronics company has labeled China a "key market". In contrast, it has 236 stores in the United States.