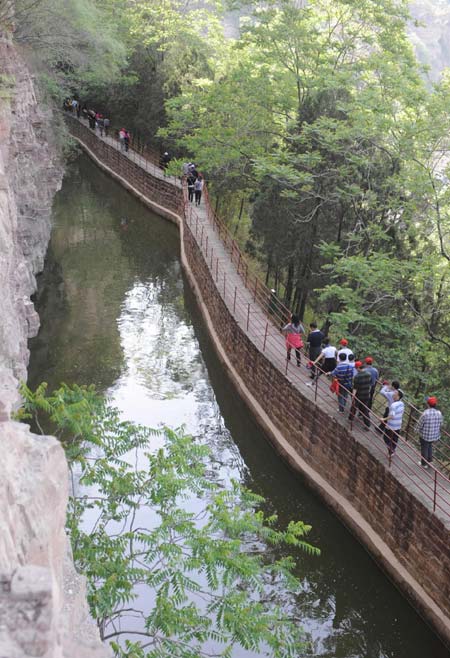 File photo of Hongqi Canal in Henan province. Picture taken on May 12, 2011.[Photo/Xinhua]
ZHENGZHOU - Authorities in central China's Henan Province will renovate and expand the Hongqi Canal, a key irrigation project and major engineering feat of the 1960s, in order to increase available supplies of drinking water during droughts.
Local officials said the renovation is a response to the central government's recent call for the increased expansion of the country's water conservancy networks.
The canal was built across the steep Taihang Mountain to bring water to the province's parched Linxian County, which is now known as the city of Linzhou. It took workers 10 years to build the 71-km-long canal.
However, years of improper maintenance have caused the canal to become damaged, and its ability to transport and secure water during severe droughts has become compromised over time, according to Li Taisheng, head of the Linzhou Water Authority.
The renovation will start this year and will include the canal's main waterway and several of its branches and reservoirs, Li said.
The renovation will cost 260 million yuan (40 million U.S. dollars) and will take three years to complete, he said.