Beijing - Local authorities suggest arson was the cause of a hotel fire that killed 10 and injured 46 others in Tonghua city in Northeast China's Jilin province on early Sunday morning.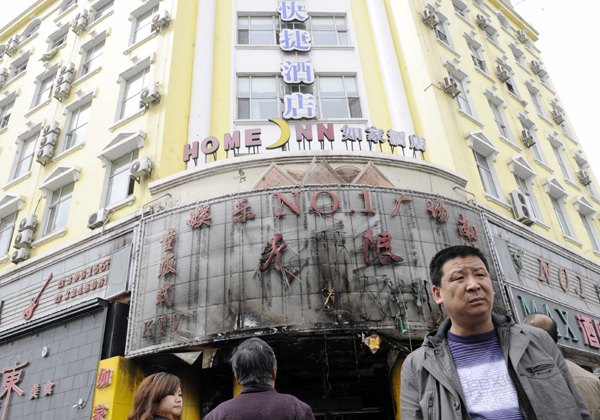 The signboard of the Home Inns hotel, which was damaged by smoke in a fire on Sunday, in Tonghua, Jilin province. [Photo/Xinhua] 
A press official with the city government told China Daily on Monday that police have concluded that the blaze was the result of a criminal offense and a further investigation is under way, declining to give more details.
The fire broke out at about 3:30 am on Sunday in a building containing an economy hotel affiliated with Home Inns, the largest operator of budget hotels in China, and was extinguished about half an hour later, the city government said in a statement on Sunday.
The seven-story building stands in Dongchang district and contains a karaoke bar and a restaurant on its first and second floors. The remaining floors were where the Home Inns hotel was found.
The fire started in the stairwell of the first floor and spread to the second floor, sending heavy smoke up even higher in the building, according to the statement.
The deaths occurred mostly on the fifth and seventh floors, where people were asphyxiated, according to the Tonghua People's Hospital, which treated the victims of the fire.
By Monday, 46 injured people had been sent to the hospital. Among the most seriously hurt was a 12-year-old boy, who was still in danger the day after the fire, according to a staff member who would only give her surname, Liu.
None of the injured suffered burns. Their worst symptoms consisted of dizziness, nausea and sore throats, she said.
One slightly injured woman told Xinhua News Agency on Sunday that she rushed from the hotel room after hearing someone shouting "Fire! Fire!" Once outside, she saw no flames but only heavy smoke.
"I quickly lost consciousness. And when I woke up later, I was in the hospital."
About 160 people fled the building and 140 firefighters were deployed to the site, Xinhua reported on Sunday.
On Monday, Home Inns expressed deep sadness over the accident and said it had allocated 1 million yuan ($154,000) to help the fire victims, according to a statement on its website.
Zong Xiangxin, Home Inns' chief operating officer, came to Tonghua to deal with the aftermath on Sunday. Home Inns, in its statement, promised to help local authorities conduct further investigations.