Sellers and makers of tainted food targeted, minimum penalty raised
BEIJING - The latest draft amendment of the Criminal Law, which was submitted to the top legislature for third reading on Wednesday, calls for heavier punishments for people who produce and sell tainted and poisoned food.
The draft is being heralded as another step in the country's efforts to address the issue of food safety and protect people's health.
The changes specifically call for the minimum penalty for such activities to be raised from short-term criminal detention to prison terms of up to five years.
An earlier draft amendment in December made it easier to convict wrongdoers in such cases and made criminal investigations more likely.
Song Fatang, a member of the National People's Congress (NPC) Standing Committee, said during a group discussion of the draft amendment on Wednesday that food safety is "an issue of great concern to people both in China and all around the world".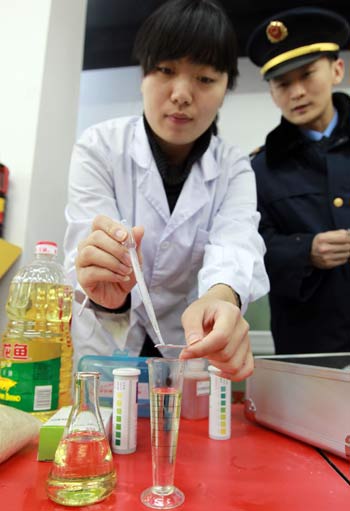 A staff member of the Beijing bureau of industry and commerce tests cooking oil during a safety check at a local produce market on Jan 27. DA WEI / FOR CHINA DAILY
Song said the severity of the situation made it necessary to raise the penalties.
The move was welcomed by Liu Renwen, a researcher at the Institute of Law under the Chinese Academy of Social Sciences, who said the food safety issue was "closely connected with China's international image and the export industry".
"The Criminal Law is undergoing its eighth amendment to keep up with social trends at the moment," Liu said. "The rapid development of the country and social changes make it necessary to amend the law according to the situation."
Last July, a milk powder produced in Northwest China's Qinghai province was found to contain excessive levels of melamine. The substance is a toxic chemical normally used in the manufacture of plastics and had been added to watered-down milk to falsely boost protein readings during quality checks.
The case was the latest in the country's list of tainted milk scandals. Melamine-tainted dairy products killed at least six babies and caused kidney problems in another 300,000 children across the country in 2008, according to official figures.
After the 2008 scandal, the central government adopted vigorous measures to fight food safety violations and punish tainted food producers and relevant officials who fail to perform their duties.
The latest draft amendment of the Criminal Law also stipulates longer minimum jail terms for criminal offenders convicted of serious felonies.
Criminals sentenced to life imprisonment should serve a minimum of 13 years, instead of the current 10, it says. And those given a death sentence with a two-year reprieve must serve at least 20 years, instead of the current 12, according to the draft.
The new provisions will only be applied to recidivists and inmates convicted of serious crimes such as murder, rape, robbery, kidnapping, arson, bombing, poisoning and organized violence.
China Daily
(China Daily 02/24/2011 page4)