When eight-year-old Xiaoxiao first needed medical treatment her family spent three nights sleeping on a hospital floor waiting to see a doctor.
A month later when they needed to return to Beijing from Luoyang in Central China's Henan province for an operation for scoliosis, her parents enlisted the help of two relatives to take turns to wait in line for a sickbed.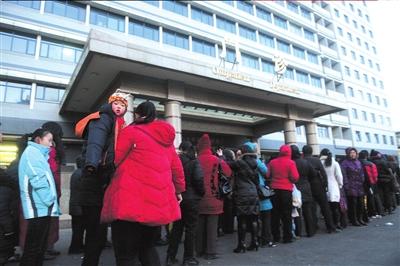 Parents wait in line to register their children at Beijing Children's Hospital. [Photo/Beijing Times]
"It is so complicated to register, to queue and to pay," the parents told the Beijing Times. "Only by us four adults' labor division can we ensure that our daughter will be cured."
Xiaoxiao is only one of the thousands of children who come from around the country to the reputed Beijing Children's Hospital.
But the excellent reputation also brings great burden for the hospital. Its designed capacity is 4,000 patients but it receives more than 7,000 each day, with the peak being more than 10,000, according to its deputy director Zhang Jian.
The situation is mirrored at the Capital Institute of Pediatrics which treated 1.7 million patients in 2010, compared with 800,000 in 2003. And the number is growing by an estimated ten percent each year.
"I have been queuing for nearly three hours and it is still not my turn, and my child's fever has shown no sign of fading, how can I keep calm?" a man surnamed Gu from Handan in North China's Hebei province shouted in the institute.
The overcrowded hospitals also pose a great challenge to hospital staff members. Nurses in Beijing Children's Hospital have to give intravenous instillation to 2,500 children on average, compared with the required number of 1,000.
More than 40 security guards work in and outside the outpatient hall each morning to keep order in Beijing Children's Hospital where hundred-meter long zigzag lines creep to the main road.
"Each doctor has to see about 100 children, and that is way too much for them," a source from the hospital said.
The reason for shortages in children's medical care is that pediatrics department contributes little to a hospital's revenue but much to medical disputes, leading to an unwillingness by hospitals to support the department, sources said.
"If we assimilate medicine and surgery departments to TV and refrigerator sellers, pediatrics is then needle and threads sellers," said a hospital source, adding "who will choose to support those that cannot generate good revenue and put their money in pediatrics which brings nothing."
Beijing will build one or two children's hospitals within the next five years, according to the draft plan of Beijing's 12th Five-Year Plan (2011-2015).