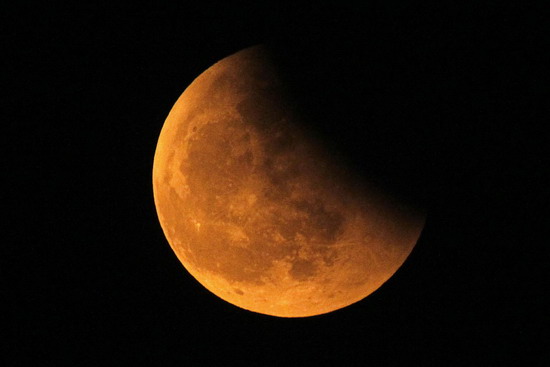 The shadow of the Earth is seen on the Moon during a total lunar eclipse in Shanghai December 21, 2010. [Photo/Agencies]
BEIJING - China's solar-powered lunar probe satellite Chang'e-2 has successfully stood the test of a lunar eclipse and hours of flying in complete darkness, the Beijing Aerospace Control Center (BACC) said Wednesday.
The orbiter, launched on October 1, flew out of the shadow at 17:57 Beijing Time (09:57 GMT) Tuesday, said Zhou Jianliang, deputy chief engineer of the BACC.
Related readings:


 Chang'e-2 ready to photograph Bay of Rainbows


 Chang'e-2 in working orbit after 3rd braking


 Chang'e-2 gets 1st trajectory correction
It entered the shadow at 14:50 Tuesday. During the three hours when the orbiter was obscured from the sun's rays by the earth, it relied solely on battery power and experienced temperatures of around 200 degrees Celsius below zero, Zhou said.
While in the shadow, it could not be directly controlled from earth and relied on pre-set instructions. It was the first time the orbiter had experienced a lunar eclipse.
Zhou said the European Space Agency had provided tracing and monitoring support for Chang'e-2 during the six hours before the probe entered the shadow, when it was out of reach of China's monitoring stations.
Chang'e-2, named after a legendary Chinese moon goddess, entered its long-term lunar orbit on November 3. and has begun capturing images of the moon's Sinus Iridum, or Bay of Rainbows.
In Monday's rally celebrating the success of Chang'e-2, Chinese President Hu Jintao hailed the project as another achievement in China's lunar exploration program and a result of its drive to build an innovation-oriented nation.
China's first lunar probe Chang'e-1 was launched in October 2007 and ended its 16-month mission in March 2009.